10 Ways to Improve Your Community Member Experience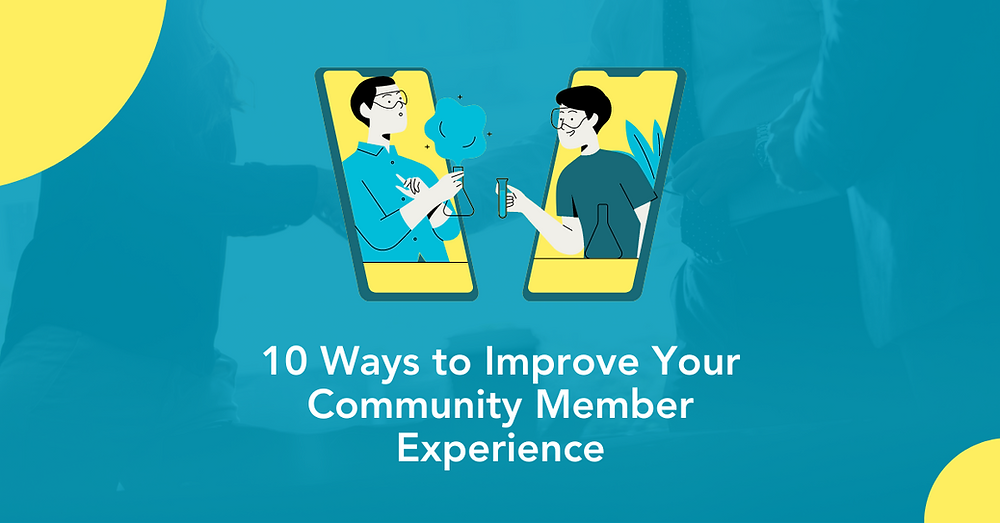 As a community manager, your job is to ensure that members are staying happy and engaged in the community and feel included, no matter what their interests or how much time they can dedicate. You're also tasked with ensuring that all activities, events, and discussion groups are as engaging as possible. These are exciting times for communities: there are more of them than ever before. And that means there are more opportunities to get involved. However, the competition is greater than ever before too: users want something unique from their communities so they'll stay longer and return again. That means you need to go above and beyond with your member experience.
Here are 10 ways you can improve your community member experience, so everyone stays happy, engaged, and feeling included until the end.
1. Communicate Clearly
When you're first building your community, it can be tempting to focus on getting people in the door. However, the first thing you need to do is ensure that everyone is on the same page about what the community is, what they'll get out of it, and how they can contribute. Communicate clearly from day one to avoid confusion and ensure that everyone is on the same page. It's also a good idea to have a quick overview of the community written down somewhere so you can refer back to it as and when you need to. Don't assume that everyone understands your vision for the community; make sure everyone is on the same page from the start. And don't ever assume that they know what you want them to do; always be explicit when asking members to get involved.
2. Promote Inclusion
As soon as the community launches, you should start promoting inclusion. You should do this at all times, but you need to make it a priority as soon as you open the doors. This can mean everything from official rules that prohibit discrimination against members, moderators, and staff, as well as an open-door policy for marginalized groups. You can also use community events and discussion topics to help promote inclusion. Make it clear from the start that the community is a safe space for everyone and that there are no off-limits topics. This will encourage everyone to stay engaged and build strong, long-term relationships with one another.
3. Be Transparent
One of the most important things you can do as a community manager is to be transparent with the community. A community manager who isn't transparent does not have the best interests of the community at heart. They don't care about creating a safe space for everyone, or about growing the community. They just want to get paid. If you want members to trust you, you have to be open and honest with them. That might mean being upfront about the goals you want to achieve with the community, the type of traffic you want to bring in, and the resources you have behind you. If you want to make sure that your community stays safe, you need to be transparent about your moderation strategies. Make sure you explain what you are and aren't willing to do when it comes to taking down content. This will help to keep everyone on their toes and prevent misunderstandings.
4. Make Member Feedback a Priority
One of the best ways to keep your members happy and engaged is to make sure you're consistently collecting feedback. The best way to do this is by setting up a platform to collect member feedback. This can be done through a survey tool, or you can use a discussion topic to collect feedback from the community. A member survey is a great way to collect feedback from your members. You can use this to gather data about what your members like about your community and what they'd like to see changed. A discussion topic is also a great way to collect feedback from your members. If you have a monthly topic that members should use to discuss their hobbies and interests, you can also ask them to leave feedback in their posts. This will allow you to easily and seamlessly collect feedback from your members, which is the best way to improve your communities member experience and stay competitive in the market.




5. Keep Activities and Events Fresh
The best way to keep your members engaged is to keep your activities and events fresh and exciting. When you launch the community, you should make sure that you have a full calendar of activities and events planned. However, as time goes on, you'll need to find ways to keep them fresh. Keep a spreadsheet of all upcoming activities and events, and make sure you have a calendar that allows you to see what's coming up next. Doing this will help you to prioritize your activities and see what needs to be planned. When it comes to events, you need to be strategic about what you include. For example, if you're holding a live event, make sure you choose one that will bring in strong members and drive traffic to the community.
6. Have a Strong Moderation Strategy
If you want to keep your community safe, you need to have a strong moderation strategy in place. Make sure that all moderators are trained, are regularly monitored, and are following your strategy. If your community is moderated by a group of humans, you need to be consistent with the rules. This will help to prevent misunderstandings and keep everyone on their toes. You also need to make sure that your moderators are trained, as a poorly managed team will bring down your entire community. When it comes to algorithmic moderation, you need to make sure that your platform has the right tools in place to foster a safe and engaging environment. If your moderation strategy is sound, you need to make sure that your algorithms are sound too.
7. Be User-Centric With Your Improvement Strategies
When you've been managing the community for a while, you'll get a sense of how satisfied your members are. At this point, you need to sit down and prioritize the member experience. You need to ask yourself: What do my members want? What could they do without? What could they do without? What could they use more of? Once you've prioritized your members' needs and wants, you can start taking action. This might mean adding more features, or it might mean removing unnecessary ones. Be user-centric when making decisions. When it comes to deciding which features to add and which ones to remove, make sure you're looking at the data.
8. Have a Strong Improvement Strategy
If you took the time to prioritize your members' needs and wants, you should have a clear idea of what you need to do to improve the communities member experience. You should also have a clear idea of how long each task will take and what resources it will require. Once you have your improvement strategies in place, you need to make sure that you're keeping track of their progress. You can track each strategy with a spreadsheet, or you can set up a project management tool like Trello.
9. Offer a Responsive Experience
You need to make sure that every aspect of your community experience is responsive. That means that your platform and the way you interact with members (including moderators) need to be responsive. If you're on a forum-style platform, this means that your interface needs to be responsive. It needs to be easy to navigate on all devices, including smartphones and laptops. If you're using a platform that allows you to communicate with members in real-time, such as a private messaging system, you also need to make sure that this is responsive.
10. Don't Be Afraid to Shake Things Up
New members are always entering your community, and old members are always leaving. This means that you'll always have new people to impress and old members who might be getting bored. You need to make sure that you're always keeping everyone on their toes, which means shaking up the community. Shake up your content, the topics you discuss, and the events that you host. Shake up your moderation strategy, and shake up your communication style. If you want to be the best community for your niche, you need to stand out from the rest. You need to make sure that you're offering something different. You need to be bold, creative, and experimental with your strategies.
Wrapping Up
Now you've understood the 10 ways to improve your member experience, you need to consider how to deliver that value. A community and membership management platform like Ugenie is perfect for delivering the value discussed above. It is the all-in-one tool that simplifies community management! Ready to give it a try? Start a free trial!
(Yes we're biased - if you want to check out a list of possible options read our blog: The 7 Best Membership Community Platforms)