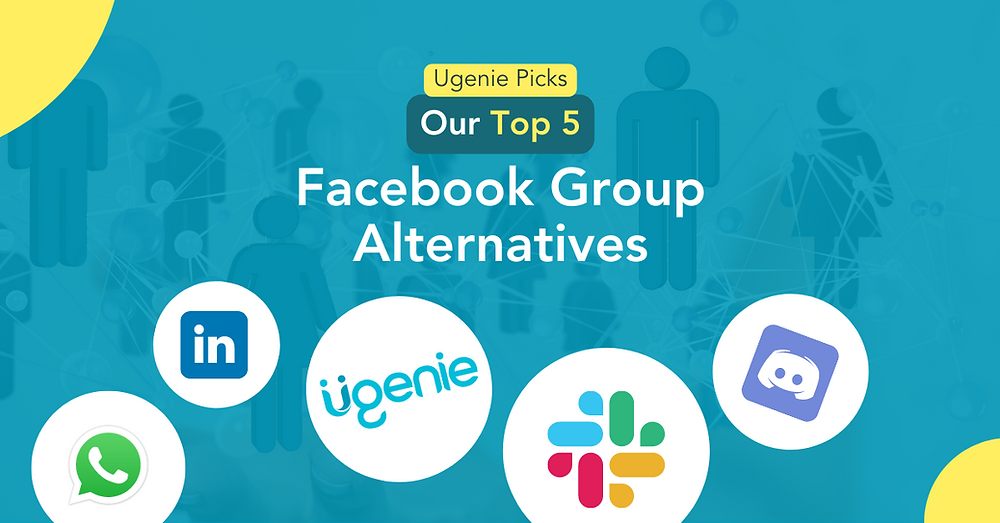 Have you ever heard someone say "Facebook is dead"?
Whether or not it's true, you should probably start to look into alternatives to Facebook Groups for your course or membership. While a Facebook Group has been a great way to connect with your students or community members, it's not always the best choice.
Before you commit to Facebook Groups long term, you might want to do some research and see why Facebook isn't the best platform to use for your community.
Why Facebook Isn't Ideal for Memberships


A lot of course creators or membership group hosts use Facebook to help run their programs. The social network lets you create groups and you can keep them private for members only.
However, not everyone uses Facebook, so you might not be able to communicate with all of your members. Even if people do use Facebook, the average UK adult is on the platform for less than half an hour per day, so engagement isn't very high.
That time accounts for everything they do, whether it relates to your membership business or not. So some members might never interact with your Facebook Group.
You also have to follow Facebook's rules when creating and running your group. And while Facebook has started to offer some monetisation options, those aren't as readily available for groups as they are for pages.
It can also be hard to track group applicants, especially if people share your Facebook group with others who aren't members.
Facebook Groups Alternatives


Fortunately, you can find a few alternatives to Facebook Groups to run your membership groups. That way, you can stay in touch with your members and offer your community a membership or course bonus.
As you review some Facebook Groups alternatives, consider what you need or want in a platform. Various alternatives to Facebook offer different features that you may or may not use in your membership.
Here are some options to consider when deciding where to host your membership organisations.
1. WhatsApp Group
The closest alternative to Facebook is a WhatsApp group. WhatsApp and Facebook are under the same parent company, Meta, so you may face similar limitations. For example, you can't directly monetise your WhatsApp group.
You can however use the group to connect with members or course participants around the world. Unfortunately, you'll need to run a community membership website separately. But that can be okay if you already have a course platform with that function.
2. LinkedIn Group
If you target working professionals in your membership business, consider using a LinkedIn group. These groups work similarly to Facebook groups, and you can set the group to private.
That way, people have to receive an invite before they can join the group and see your content. You can create text posts as well as share videos, photos, or polls.
In general, people will be more professional and courteous on LinkedIn than on other platforms. However, you have the same drawback as Facebook since not everyone has an account on LinkedIn.
You also can't monetise your LinkedIn group. And while LinkedIn does let you create courses, you have to use another external platform for that, so you'll find it difficult to connect your group and your course.
3. Slack Workspace
If you don't want to worry about people having specific accounts, Slack may be a good alternative. You can set up a Slack workspace for your membership and you can organise it with different channels.
Many people may already be familiar with how Slack works, but it's fine if they haven't used it as it's quite intuitive. You can send an invite link to new members through their email, so they don't need to use social media to sign up.
Slack is useful for course and membership providers, regardless of their budget. The platform is available for free with some limitations, or you can pay a monthly fee per active user. That means you can incorporate the price into the amount you charge members so Slack doesn't have to affect your bottom line when running a membership.
4. Discord Server
Discord gained popularity thanks to video game streamers, but you can use it for a variety of things. It's similar to Slack in that you can set up channels to organise your content, communities and discussions.
Your server can be invite-only so that people have to join your course or membership to access the Discord server. Discord also provides moderation tools to help control the content people share.
Of course, you can link to your course platform in Discord and vice versa. However, you can't host your course or membership on Discord, so you'll need an extra tool.
Still, Discord is a nice option, especially if you want to access your group on the go with the mobile app. You can start for free or pay a flat monthly or annual fee for more features.
5. Ugenie
One of the best Facebook Groups alternatives is Ugenie, which acts as an end-to-end membership management platform. You don't have to worry about setting up one for your membership and another for your group, it can all be done on Ugenie.
There are two options, uHubs and uApp. uHubs grants you access to a website and app, a dedicated account manager and an initial consultation.
If you want more features and support, uApp integrates with your website. You can also set up your own branded app using the tool so that you can white label your membership or course more easily.
Both platforms allow you to build multiple communities, which is great if you have more than one course or membership. You'll also be able to send email announcements and notifications to your members and students.
Running Your Membership Made Easy


If you're ready to stop relying on Facebook Groups to run your membership, Ugenie might be the best solution for you. If you're unsure, Ugenie offers a 45-day trial so you can test out the features for yourself.
What are you waiting for? Start your free trial today.