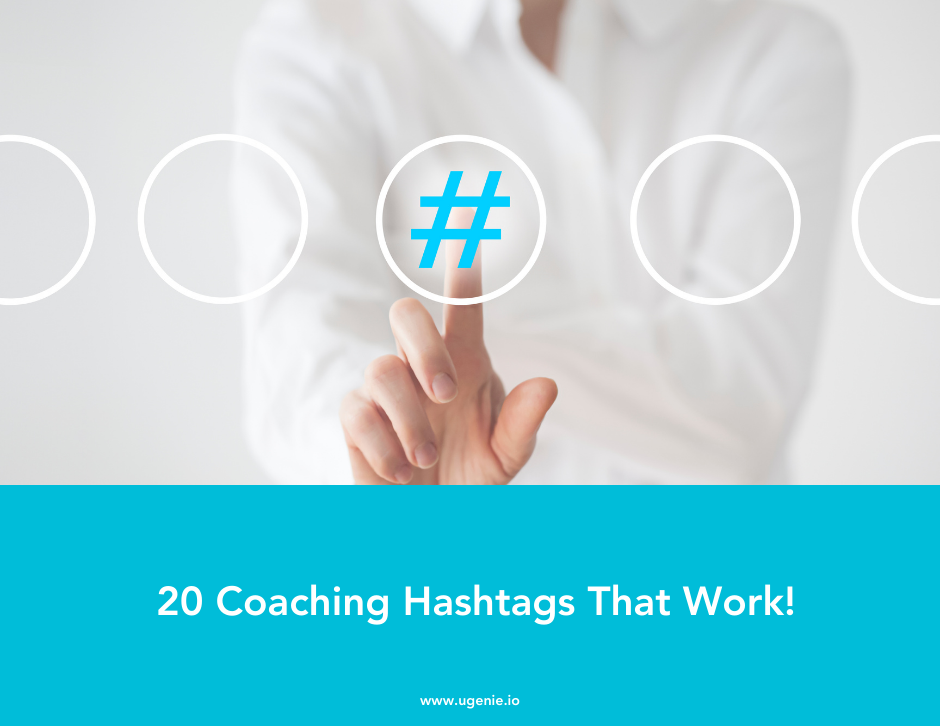 Social Media is the great connector and has opened up a wealth of opportunities for those starting out in their coaching career. One of the ways coaches can take advantage of this is by using hashtags to both market themselves and partner with others who might be interested in what they have to offer.
There's so many coaching hashtags out there, it's hard to know which should you use and when. So, we've put together a list of the best coaching hashtags for social media. Everyone loves a good listicle - right?
Now, this one seems pretty straightforward. If your social media page centres around coaching, what better way to utilise this simple but effective hashtag.
It's sure to attract new followers, connect you with other coaches and grow your engagement.
All alike, whether you're a business, life or fitness coach, #Motivation is a perfect way to attract larger audiences whom are enthused. You don't want non-committal prospects flooding your engagement, after all.
💡 Top Tip: Use #Motivation alongside industry-specific hashtags to reach your target audience!
It's always a good idea to create content related to the trends circulating social media. Although #ManifestationMonday isn't viral worthy, it sustains consistent content to help algorithms advance your ranking.
Amid coaches encouraging positive life changes, promoting manifestation could attract potential clients. So if the power of manifesting is your vibe, capture your target audience every Monday and get coaching!
We think this is the perfect hashtag to use when posting about current clients achievements. Show off how you've changed the course of a portion of someone's life and allow future clients to see how you operate.
Go on, brag a little!
Sorry business coaches, this one isn't for you (try number 11 😉).
Life coaches listen up, plaster this simple hashtag across your social media channels, allowing clients to find you for their needs in a quick search!
If mindset is your forte, shout about it to the community of people who'll inevitably find you through your hashtag campaign. You should be able to find your ideal coaching clients by using yourself as a fantastic marketing tool!
Sticking with the theme of mindset coaching, #Mindfulness is a great hashtag feature to use. Although hot with 32.6M Instagram posts, users that follow this hashtag have a greater chance to see your content when it's freshly posted.
💡 Top Tip: Accompanying #Mindfulness with other content-specific hashtags gives you the opportunity to promote your business to thousands!
We find that a lot of coaches focus on improving mental health to gain a better outlook on their client's goals, making them appear more achievable. Of course coaches aren't therapists or counsellors but those struggling with balancing their mind and personal/business growth may benefit from being made aware of the coaches that can and do aid mental health battles.
This hashtag can be used for broader topics within coaching, such as mental health, fitness, healthy lifestyle posts and lots more! The possibilities are endless with non-specific hashtags, use them to promote your business until your heart's content.
In wake of International Women's Week, we had to throw in one specific to the ladies! If you identify as a girl/woman and you run your own coaching business, use it to your advantage and promote yourself as the strong coach you are!
Hey business coaches, we're glad you stuck around! Sorry about leaving you out at number 5, we hope this makes up for it!
This straightforward tag will eventually lead to business growth as more ideal coaching clients find you through your hashtag strategy.
💡 Top Tip: Ensuring you're using industry-specific hashtags will draw out your target audience.
Personal trainers make up a great portion of the coaching community, make sure your social media channels know you're a health and fitness guru with this simple hashtag.
💡 Top Tip: Explore more fitness hashtags to coincide with your content!
Since the start of the pandemic, yes we're still talking about it, many a business has taken itself online. If you're reading this blog, the chances are you've taken yours online, too. That doesn't mean that all your content consumers know this though. What may be obvious to you, isn't always to prospective clients.
💡 Top Tip: Use your hashtags for details of your coaching business, e.g. whether you're online or in person, where you're located, etc.
What's a better way to promote your coaching business to your target audience than a day in the life post. Giving current and future clients an insight into what your day consists of encourages a feeling of togetherness. If prospects get a snippet into your life, they're more likely to trust you with their personal goals, thus new clients gained.
Another hashtag for personal trainers to add to their list! Use it to promote workout routines, fitness courses and whatever else you offer to help clients improve their wellbeing.
Are you running your own coaching business? Why not use this hashtag to find other small businesses alike to gain connections within your industry. Networking is always a good idea.
Coaches often help promote and teach self love. Prospective clients looking for self love advocacy will flock to your posts tagged with selflove, increasing your engagement rate and hopefully securing new clients!
Everything coaches teach, educate on and champion for come down to one broad topic: personal growth. Hence this hashtag can be used under daily posts to promote the general cluster of work you do as a coach. With other content-specific hashtags, of course!
You are most likely your clients inspiration, but how about those clients you're inspired by? Take a moment to appreciate your clients' journeys from the ground up. Promoting the people you've impacted could be a new addition to your brilliant hashtag campaign, attracting new clients once they see your work.
Continuing with success stories, what other hashtag makes more sense than #success.
Now that you have a few coaching hashtags to experiment with, it's time to put them to work in your social media strategy. Whether you use one, several, or all twenty hashtags depends on your brand and what you're looking to accomplish. Though we recommend using 3-5 for best results!
No matter which ones you choose, remember that they're only part of the equation when it comes to effective social media marketing. Happy strategising!