The 10 Best Association Management Software - Ugenie Top Picks
13 min read
April 26, 2022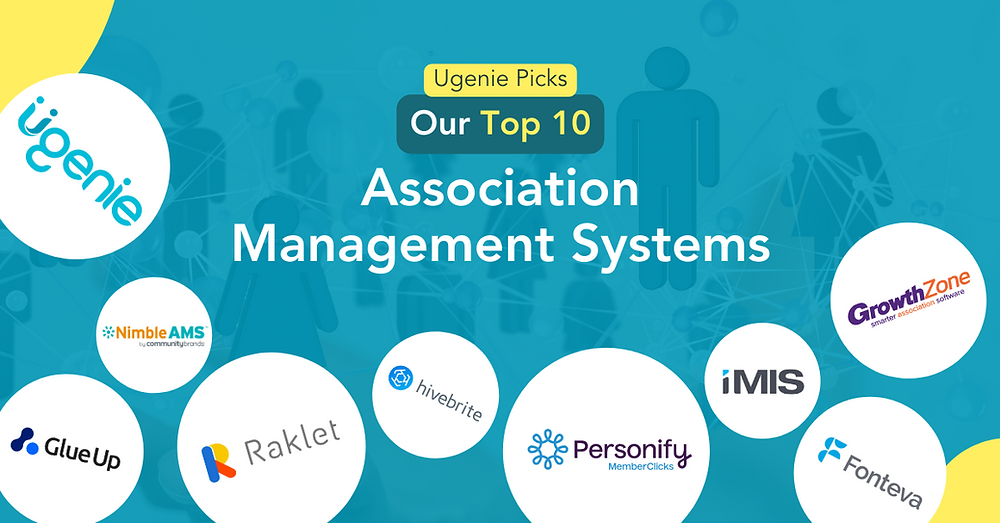 I'm not sure about you, but it's clear to us that many associations are still behind the times, spending too much time reacting rather than focusing on what matters.
"Our software that doesn't work properly", "We have a technology deficit", and "Our tech needs an update" are just a few of the top-cited challenges associations face when it comes to managing their members.
However, by digitising your services through the use of new technologies like Association Management Systems, there are many opportunities for retention, engagement and value for your members.
So, if you're an association manager looking to discover new technology to address your challenges and see what truly works best for your setup, here's a list of 10 of the very best Association Management Systems.
What is an Association Management System?
In short, AMS is an acronym for Association Management Software/System. This technology is usually used by trade associations, professional associations and even Chambers of Commerce to manage their members and effectively run their organisations.
We've put together a comprehensive blog post detailing the ins and outs of Association Management Systems, which you can read here: What is an AMS?
What to look for in a good association management software (AMS)
A good AMS should be simple to implement, easy for your members to adopt and should enable you to save time and money by improving your infrastructure. It should also have the ability to monetise things like membership dues and non-membership dues, courses and content, while also providing you with rich, insightful data so you can confidently analyse and report on your progress.
The key features of Association Management Software:
Ability to take payments/setup subscription plans

Email marketing

Event registrations and management

Ability to create an online community within the AMS

CRM/Membership database management

Content management and creation

Cloud-based membership management

Advanced data analytics

Both app and web capabilities

Group management

Learning management
This list could go on because we know that no two associations operate in the same way. We've spoken to hundreds of membership associations and we've found that some prefer to use their AMS as a content or learning hub, while others strive to build loyal communities within their membership group.
The question you're asking yourself is, which one is right for me? With so many variables, it can be confusing, to say the least. Well, let's get to it then.
The Top 10 Best Association Management Software
Here's our list of the Top 10 Association Management Systems, with detailed information on each below.


1. Ugenie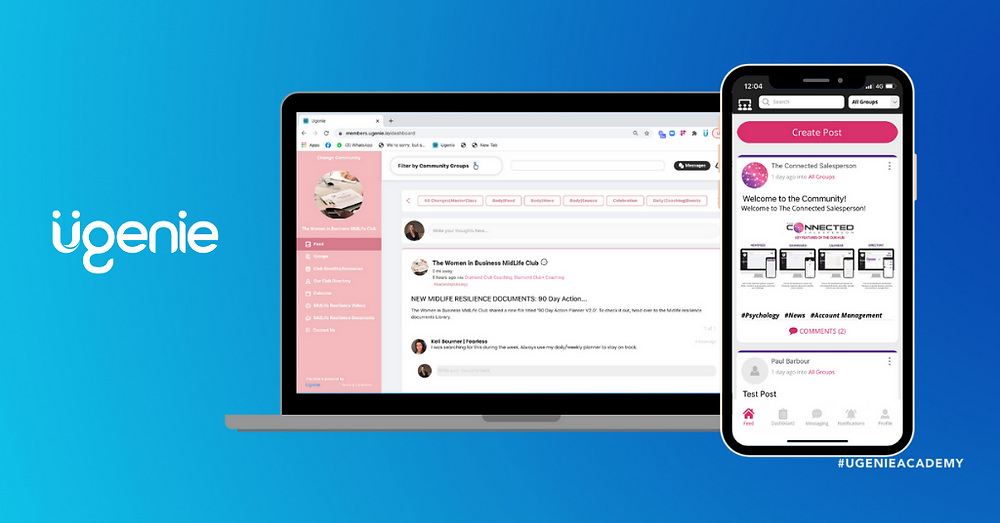 Ugenie is the next generation of AMS, powering associations of all shapes and sizes. The Ugenie AMS is a flexible community-building platform packed full of features that can be customised exactly to your specific use case.
This all-in-one solution has helped Ugenie customers transform the way they work with their members. As a company, Ugenie prides itself on being the simplest solution there is on the market, whilst also boasting a large number of features, such as live streaming, payments, event management and a unique content management and assistance feature. This is especially helpful for planning your membership communications faster and more effectively.
Ugenie Advantages


Ugenie customers often say that its benefits lie in its simplicity, although it's still remarkably powerful with enough features to really make a difference. Ugenie provides an intuitive platform that enables association managers to tailor unique experiences far away from the noise of social networks, giving them the tools to curate content for their members. This in turn boosts retention by keeping your members engaged and active.
Uploads are lightning-fast, so storing and sharing things like class materials and content that goes out to multiple people is much simpler than fragmenting it all across Google Docs or WhatsApp, and the calendar feature helps keep everything organised.
Ugenie is also perfect if you need a way for your members to communicate and network with each other. Mutual support and collaboration are vital for any membership business, and Ugenie delivers on this by empowering your members to stay connected.
With a high level of technical support on hand at the drop of a hat and ongoing development of new features being released on a regular basis, Ugenie is a powerful, future-proof solution for membership associations of all shapes and sizes, not one to be missed.
Ugenie Disadvantages


Some secondary features are in development

It could have more integration options
Ugenie Pricing


Ugenie currently has two products. uHubs is an entry-level product for smaller organisations and uApp is for larger membership organisations that require a white-label/branded community.
uHubs starts from £65 per month, while uApp's pricing differs depending on the organisation's size and needs.
Does Ugenie offer a free trial?


Yes, Ugenie offers a 45-day free trial, so you can try it out for yourself and really see what works best for you.
2. Nimble AMS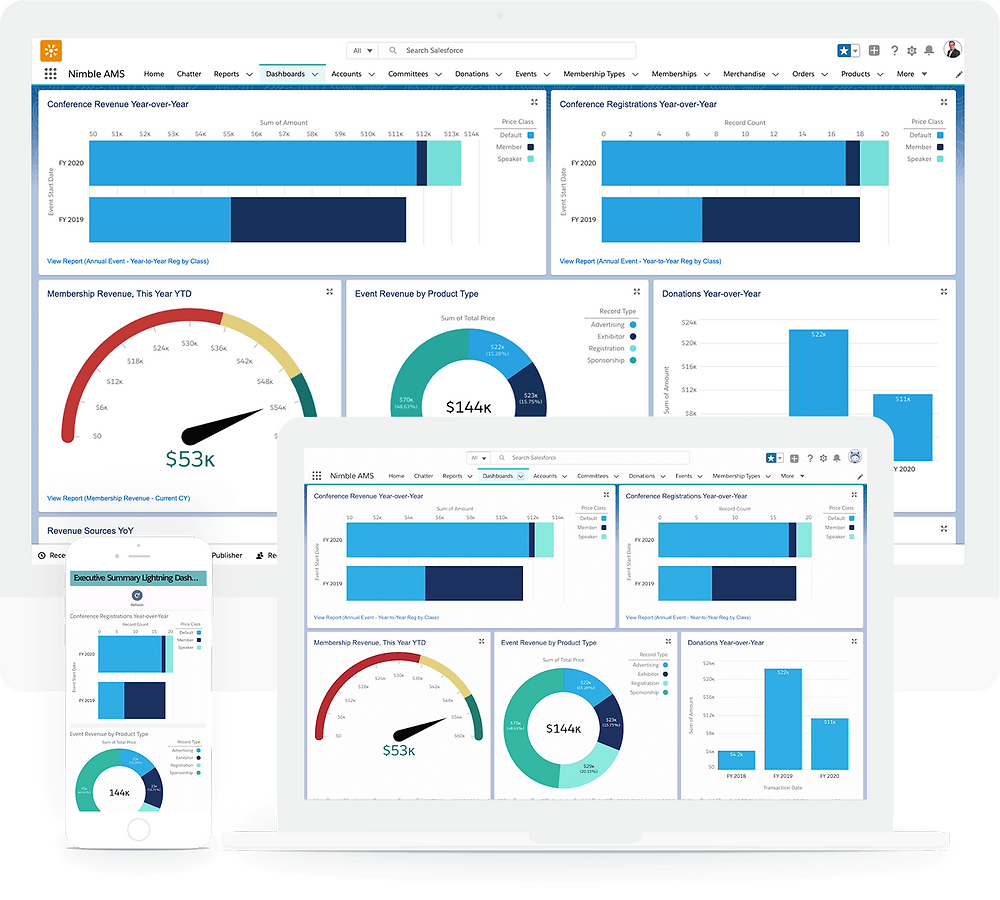 Source: Nimble AMS
Nimble AMS is a good association management tool with a range of features that power your association. The only caveat to using a solution like Nimble AMS is that you will require a license or several forSalesforce, just to be able to use it. This can end up being quite costly, both in implementation and training if you're new to Salesforce.
Nimble AMS Advantages


Being built on Salesforce, it is able to take advantage of all the benefits and tools that the platform has to offer. The ability to configure the system to exactly meet your needs is also a great improvement over some of the more base-level tools.
Nimble AMS customers say that it's intuitive to use, with a good user interface and navigable pages. It also shines in the areas of financial tracking and reporting. Because of this, Nimble AMS has come to be known for being a great solution for those who need to manage vast amounts of data, having been built on the Salesforce platform, which might be familiar to some larger organisations.
Nimble AMS Disadvantages


More data management experience than member experience

Reporting is powerful, yet complicated

Requires training to get full use of the platform

Some users claim it is an "underwhelming" user experience

Costs easily stack up
Nimble AMS Pricing


Nimble AMS's pricing starts at $160 per month, per staff user. Salesforce's price range can be up to £240 per month per user for the CRM package.
Does Nimble AMS offer a free trial?


No, Nimble AMS does not offer a free trial.
3. Fonteva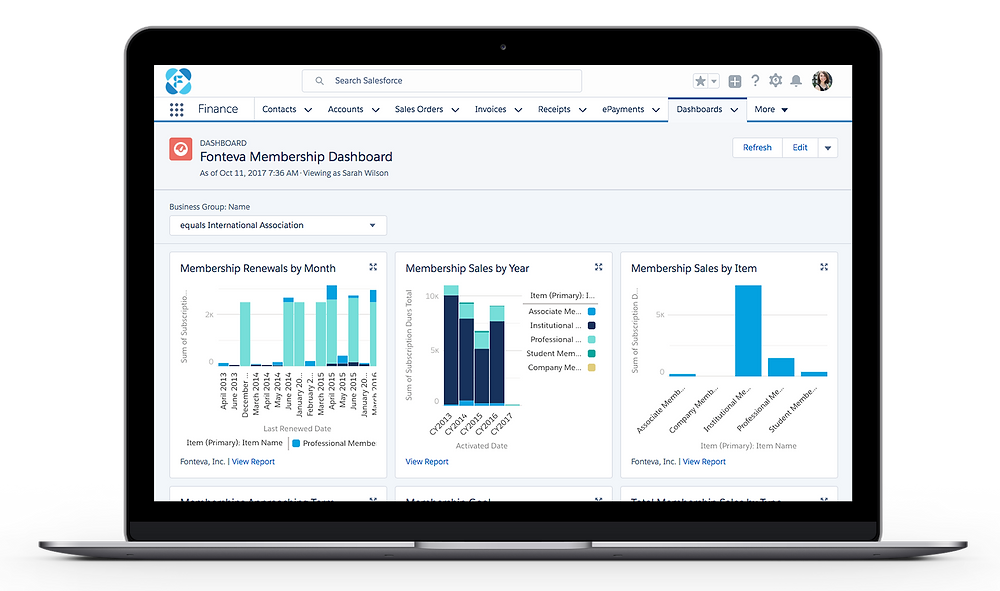 Source: Fonteva
Similar to Nimble AMS,Fonteva is another Salesforce-based membership management solution that boasts a huge range of features relevant to an association.
Fonteva Advantages


Like Nimble AMS, Fonteva is Salesforce native, enabling seamless information mapping for the CRM giant. However, where Fonteva really comes into its own is in events management and registration, two features that are often seen as superior upgrades to standalone events platforms.
Fonteva Events is feature-rich, which makes it good for a variety of different events. For organisations that want to brand their own events, Fonteva has a lot of options like custom CSS allowing for greater customisability.
Fonteva Disadvantages


Some users say it's not always intuitive

No phone support

The emailing system is complex

No automated waitlist system

Some features require coding knowledge

Refunds and cancellations are not automatic

No one-click registration option
Fonteva Pricing


Fonteva doesn't state pricing on its website, but user feedback cites $175 per month per user as a rough price. Salesforce's price range can be up to £240 per month per user so, like Nimble AMS, costs can stack up pretty quick.
Does Fonteva offer a free trial?
No, Fonteva does not offer a free trial.
4. GrowthZone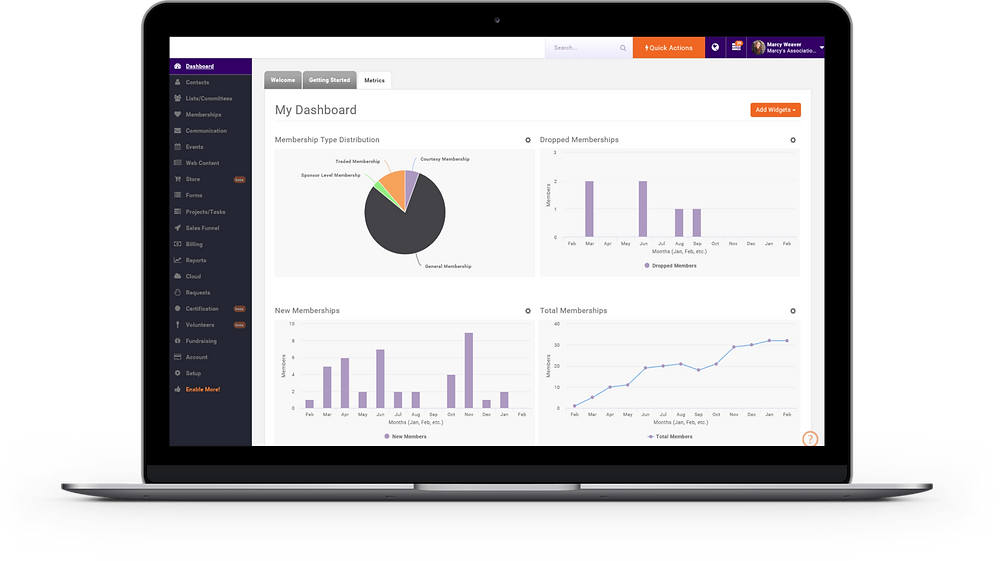 Source: GrowthZone
GrowthZone is definitely a leading contender with a powerful array of content and resources, as well as a comprehensive, feature-rich AMS. This software works for associations of all types, as well as chambers of commerce. This software can be slightly costly for the smaller associations on the market, with prices starting at $249 per month depending on the features you need.
Growthzone Advantages
For the most part, GrowthZone is user friendly, with lots of template options that make it a shade better than Wordpress for building membership pages. Financial tracking and processing payments are super easy to use, which makes it a great draw for organisations looking to monetise their memberships. Registering for events is also intuitive, with just a couple of clicks needed before you're registered, paid and have it on your calendar. GrowthZone also has an area where customers can request features, making it a good option for those who need a little flexibility.
GrowthZone Disadvantages
Unintuitive software

Online tutorials are difficult to navigate

Not enough functionality for some users

Support has slow response times

Not as simple to use as other AMS

Some features need extra learning to use
Pricing
GrowthZone starts at $249 per month
Does GrowthZone offer a free trial?


No free trial offered.


5. Raklet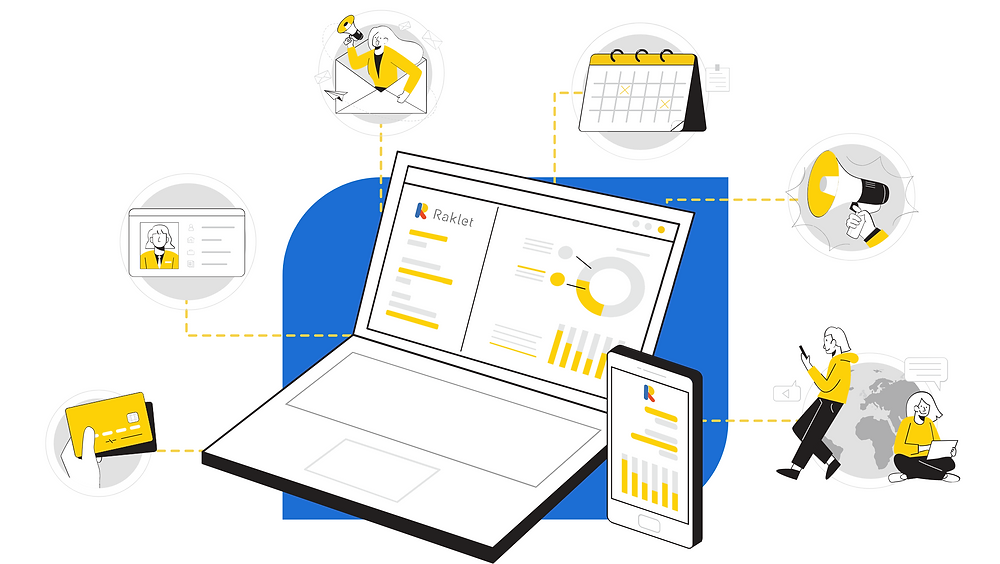 Source: Raklet
Raklet focuses on helping you build, grow and monetise your audience through memberships, newsletters and other digital tools. They have a large suite of integrations and payment plans to suit any membership organisation.
Raklet Advantages


Individual event pages and easy ticket fee collections are a real draw for organisations putting on regular events. Managing attendance is simple, with an easy to use interface and a minimal learning curve across the platform. Cloud hosting makes Raklet a fast, efficient platform, with a focus on campaign design and digital marketing tools for its customers, enabling them to create forms, communicate through the application, text or email, collect payments online, simplify event management and reporting.
Raklet Disadvantages


Not enough customisation of pages

No historical trail of events, according to some users

More events focused than other solutions
Raklet Pricing


Raklet has a free option available. Premium plans start at $49.
6. iMIS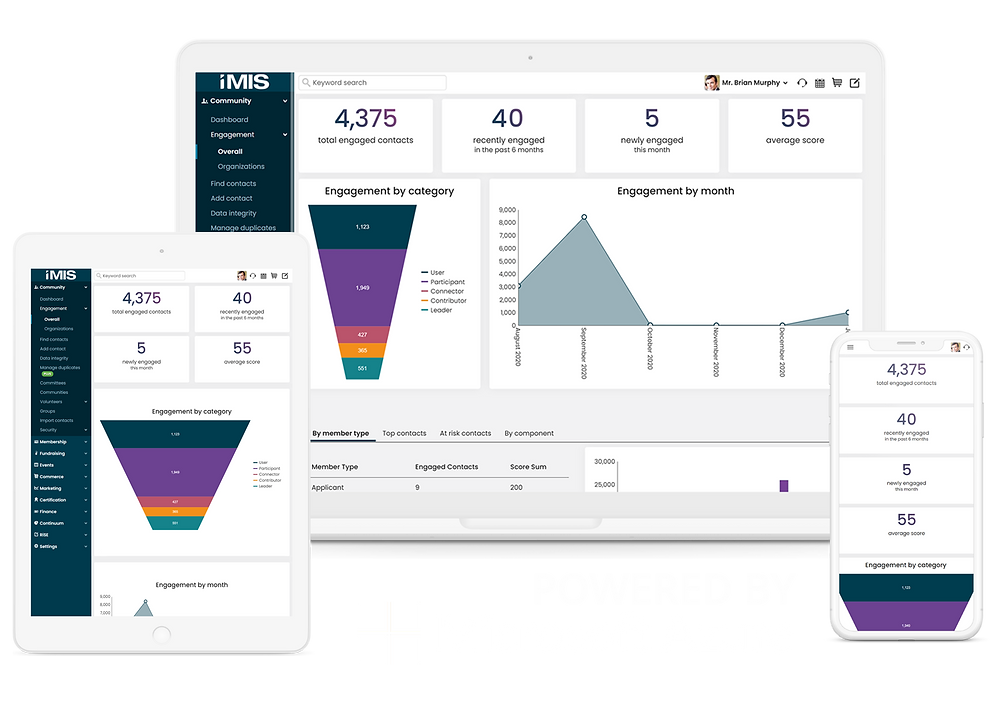 Source: Imis by Advsol
Built on Microsoft Azure, iMIS provides a more complex membership management system, with their very own app marketplace which allows you to bolt on extra functionality. iMIS tends to be used by membership-based organisations with larger budgets as there are typically additional costs with the setup due to it being so technical.
iMIS Advantages


iMIS offers out-of-box solutions to meet various business requirements, making it easy to integrate between third-party apps and custom development with their Rest API. Cloud-based technology with excellent levels of support make this a top-tier platform, with the most needed tools ready from the get go, with further customisation available from its powerful and easy integrations.
iMIS Disadvantages


Complicated software upgrades

Steep learning curve

Slow load times according to some user reviews

Multiple instances of downtime

Scheduling emails isn't as intuitive as it could be

Some tools require training

Lots of integrations mean costs add up
iMIS Pricing


Prices start at $200 per user per month, however it's been stated there are quite a few additional costs due to complex setup and integration add-ons.
Does iMIS offer a free trial?


No, iMIS does not offer a free trial.
7. Hivebrite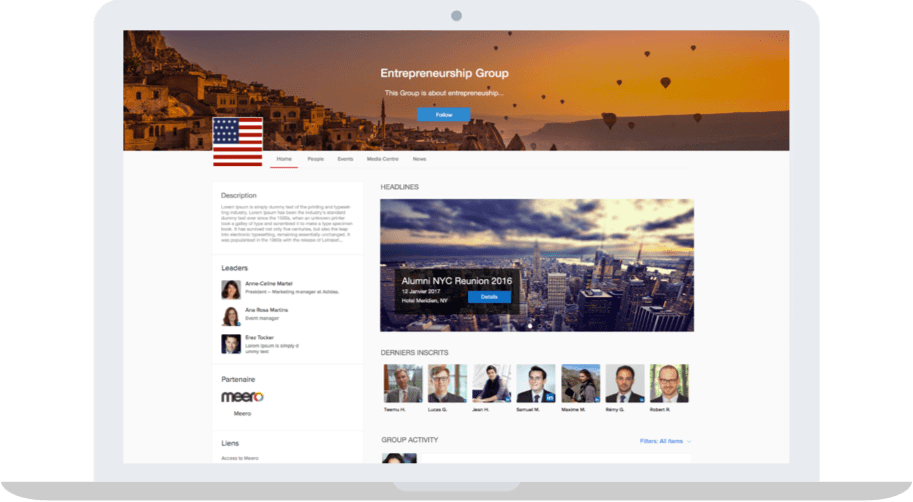 Source: Hivebrite
Hivebrite is a powerful online community platform, providing top organisations with all the tools they need to build, manage, and engage their community. They boast a powerful CMS capability allowing users to build microsites for their community. However, Hivebrite can be quite costly for less active or community-driven organisations.
Hivebrite Advantages


Many users have said that the user experience is much better than other events platforms on the market. Features like the global map, events page, campaigns, and more amount to a range of features for Hivebrite customers to leverage. With intuitive functions for admins and members, Hivebrite is a great solution for communities that thrive on events and community networking.
Hivebrite Disadvantages


Can be quite costly

Inflexible with feature building

Poor notifications feature, according to user reviews
Hivebrite Pricing


Hivebrite pricing is not publicly available. According to tribe.so, pricing is estimated to start from $500.
Does Hivebrite offer a free trial?


No, Hivebrite does not offer a free trial.
8. Wild Apricot

Source: WildApricot
WildApricot has an active user base, and continually updates their product. The interface is relatively easy for the non-technical user to adopt, making it a great all in-one-solution with affordable price points.
WildApricot Advantages


WildApricot integrates many of the key membership management functions like applications, renewals, events, and a website all in one platform. WildApricot is simple to use, and it does not require a developer to maintain the site. Anyone with a modicum of technical knowledge can manage it. They continually improve and upgrade their functionality and usability, with the constant addition of new features, without losing their core offering. WildApricot is a great solution for an all-in-one membership database, payment system, website and CRM for many smaller associations, with simple email communication, event management, and membership database in a user-friendly platform.
WildApricot Disadvantages


Software can sometimes be restrictive

Sometimes difficult to navigate

International transaction fees

Integrations aren't straightforward, according to user reviews

Limits to how many emails, invites, and members can be added

Invoice templates are limited for messaging

Reporting for membership inflexible
WildApricot Pricing


Pricing starts from $25 for basic setup and $60 for premium setup with 5 admins.
Does WildApricot offer a free trial?


Yes, WildApricot offers a free trial.
9. Glue Up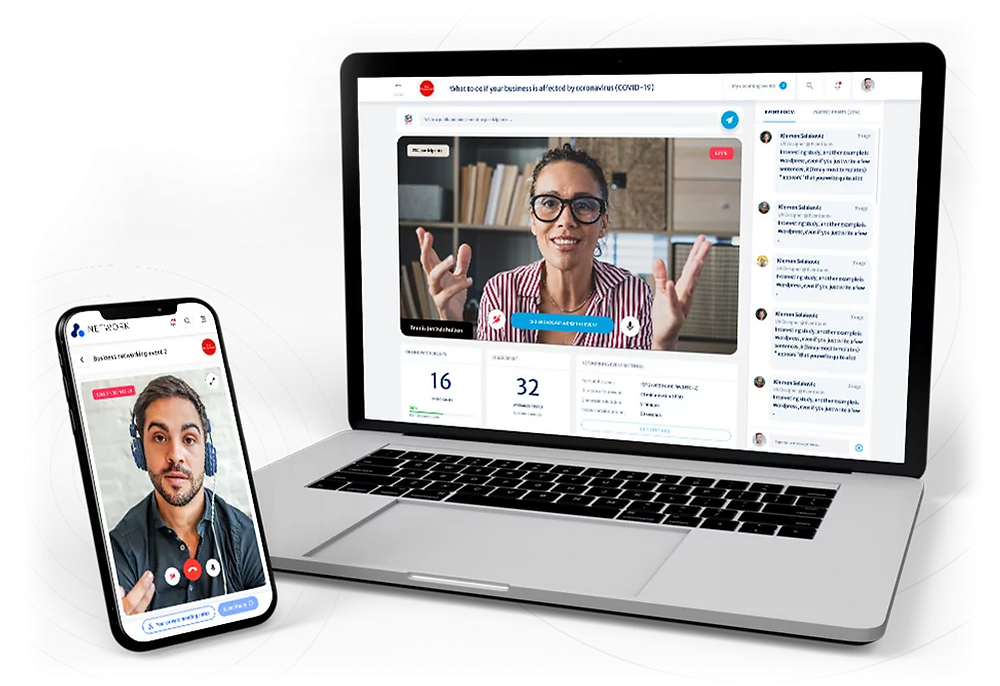 Source: Glue Up
A strong alternative to the other AMSs in this list, Glue Up is another platform that boasts a powerful all-in-one solution for its users and at a competitive price point. They also have some great onboarding and customer service to support new customers.
Glue Up Advantages


GlueUp offers a more robust experience overall than some other AMS solutions, with a responsive, knowledgeable support team. The platform aids collaboration between partners, members and teams, with event management, member management, campaign management and website solutions rolled into one. Pricing is also quite attractive to new customers, taking into account some of the smaller organisations with less room for growth. With personalised webinars, training and support to help onboard new customers, Glue Up is great if you've never used an AMS before.
Glue Up Disadvantages


Delayed renewal emails

Site sometimes lags

Too many system updates

Not enough analytics

Events pages aren't very customisable
Glue Up Pricing


Pricing starts at $125 per month
Does Glue Up offer a free trial?


No, Glue Up does not offer a free trial.
10. Join It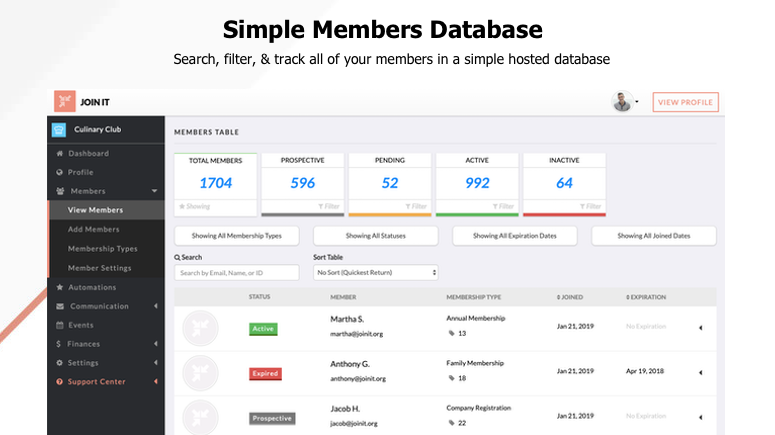 Source: G2
Join It keeps it simple, only focusing on the core need within a membership organisation, instead of trying to do everything at once they only focus on membership database and management, events, and payments. They then integrate with the alternative tools their customers use to become a part of their tech stack ecosystem.
Join It Advantages


While many software packages try to be a Swiss Army knife, increasing complexity, setup time and learning curve in the process, Join It sticks to one thing and does it well, focusing on the core needs of a membership association, namely membership management, signup, events and payment. It's a quick set up process, enabling organisations to get up and running in under a day. The functionality, look and feel and wide range of integrations make Join It a great option.
Join It Disadvantages


"For some of our needs, we had to go to external software providers and Join It does not yet have the ability to integrate with these providers via an API. Some of the 'nice-to-have' functionality is limited, relative to other premium service offerings."
Join It Pricing


Pricing starts from $29 per month.
Feature Comparison - Ugenie VS the rest
We've scoured the top 10 feature lists across their websites and have collated the information to present you with an easy to digest feature comparison chart below.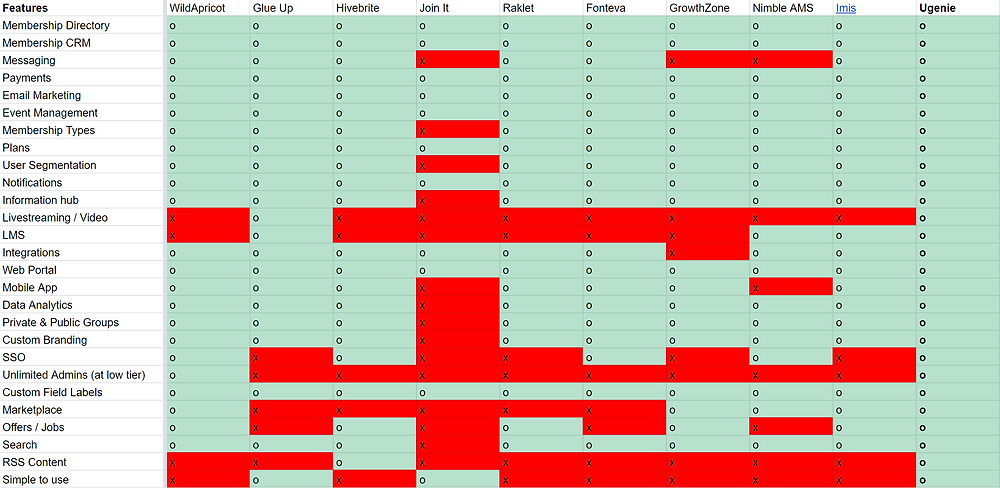 Note: the list has been compiled using public facing data there may be features present once you start using the software. If you are a member of one of these tools, let us know if we have missed something out.
Conclusion


All-in-all, there are some very strong contenders in the AMS landscape. Some providers favour the more enterprise-level solution, focusing on developing complex and comprehensive offerings, while others keep it simple and focus on the core offering of membership management and payments.
Ugenie appears to be the only one that has a complete all-in-one solution...and then some. Combining CRM-like membership directories with learning management systems, marketplaces, email marketing, and event management, Ugenie is a comprehensive solution agile enough to suit a range of different associations.
Throw into the mix a comprehensive admin dashboard and a powerful analytics system, Ugenie truly stands out as an all-in-one solution that has something for every organisation.
But if you're still unsure, check out the following suggestions.
No budget for new technology? Try the Ugenie free trial or Raklet's free option.
Using Salesforce to manage your members? Check out Nimble AMS or Fonteva.
An established association that wants to digitally transform? Check out the Ugenie uApp. Alternatively, consider Glue Up, Raklet or GrowthZone.
Have money to spend? Try the Ugenie uApp. Alternatively, consider WildApricot, Hivebrite or Imis.