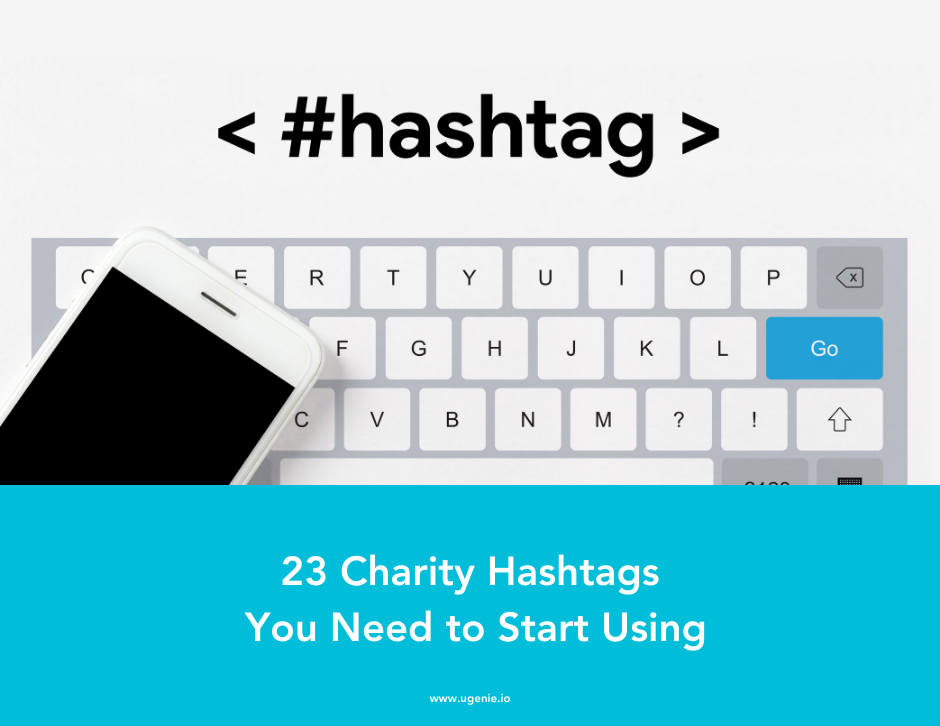 What if you could increase your audience and reach by 5x on social media for a good cause? Now, I can't think of a single person who wouldn't be willing to give up their time and lend a helping hand to a good cause. But first, you've got to find those people. And if you're looking at social media for the answer, your search isn't over yet. We've scoured the internet to find you the best charity hashtags out there. So take note and save them in your phone or planner!
What if I told you that you can use these hashtags not only to grow your own community, but also to promote awareness for causes worldwide, or join in fundraising campaigns that could help individuals in need? Best news ever - right?
Without further ado, let's jump into popular charity hashtags!
There's no better way to let everyone on your social media platforms know what you do by the simplicity of "charity". No matter what the subject of the organisation you're running, this one word will perfectly sum up what you do. Of course you'll have to notify audiences on who or what you're advocating for but at the end of the day, they'll immediately know you're promoting a good cause.
Now I don't know about you, but if I see someone advocating a nonprofit on social media, I'd be inclined to find out ways to help and so will your audience.
Similar to the previous idea, this simple hashtag will prove effective in raising public awareness about your organisation. Popular across Instagram, Facebook and Twitter, #nonprofit is sure to grow your reach and find new volunteers, donators and activists.
This hashtag draws in potential donors as well as those that want to help support a cause. You should be mindful when asking for donations though. The most important thing is to try and engage with people. Make sure that you are polite and are not simply looking for donations without giving anything back.
Remember, running a social media campaign is like running a marathon, it is not the sprint that wins you the race, it is the slow and steady pace that everyone else falls behind on.
Is your non-profit missing volunteers to take you where you want to be? Are you tired of struggling alone to ad campaigns and research topics? Then this is the hashtag for you!
By calling out to the people who want to make a change, you're sure to have new messages from people willing to join you and your campaign.
Over the past few years we've seen the word "activism" become more popular, it's a force that drives younger generations to participate in good causes and feel like they're making an impact on the world around them.
This tag will help you reach a more diverse audience, increasing your chances of people ready to help!
As a nonprofit, you want to use Instagram to engage with the local community while showing off your work. With 108k posts on Instagram, #CharityTuesday increases the likelihood to land on the feed of charitable individuals.
Social media is made for trends, you can post charity Tuesdays across all your platforms!
Whether you're making a difference on a global, national or community level, your mission as an organisation is surely to make as much of a difference as possible. Guide others in making a positive contribution to charities, find them through the use of this carefully crafted hashtag.
Charity is about paying your good fortune forwards. Attract the people who strive to pass on their bounty to others with this simple hashtag.
Be sure to use this hashtag sparingly, it's perfect for. donation campaigns.If used under posts not relevant to paying forward, it may prove ineffective.
There are real people out there who've benefited from organisations just like yours. Perhaps they've grown since needing your aid, and now they want to give back to help you change more lives like theirs. This is the perfect way to draw them out of the cracks.
Allowing people to get closure is important for your organisation but also the individual donating. It allows them to feel better about themselves and realise they are able to give back to society. And it allows your organisation to keep on helping people. What more could you want?
It's pretty straightforward, the reason people start charities is to spark change. Some want to support young minds after seeing someone close to them suffer with mental health. Others want to feed disadvantaged children because they know what it's like to be a hungry 5 year old. No matter the cause or why you started advocating for it, all charities have change in common. All of the people who want to help want to be part of this change, too.
Inspire social media users to take the first step to making a change by simply using #change.
As previously mentioned, your nonprofit may be missing volunteers to take you where you want to be, leaving you to struggle with campaigns on your own. Well, suffer no more when you tag your social media posts with #volunteerwithus as it will bring candidates straight to you, all you have to do is wait. Sounds doable, doesn't it?
This hashtag was originally proposed by Tom Dawkins in Washington, DC, he was then joined by twitter users around the globe hopping on the #4Change trend.
This tag is now used for social media users to raise discussion about matters they think need to be tended to. Thus a perfect opportunity to raise awareness about what your organisation patrons for, who you're helping and how others can help.
It's a natural human instinct to want to help others. But it's also part of our nature to look out for ourselves and ensure our needs are met.
Your fundraising page is essentially a form of ad, even when you aren't trying to sell anything. Don't be ashamed of this, use it; while your goal is most likely to donate to charity, you should always keep in mind that you are asking people for money. Try to think of your charity page as a high converting ad that gets hits and converts visitors into donors.
Though all tags thus far have been asking for support in one way or another, directly asking for it could change your campaign.
Using the tag allows for media consumers to find your posts through a simple hashtag search, searching specifically for "support" increases the success of your fundraising efforts.
Make a note that often when scrolling on social media, users don't usually take much notice of posts unless the topic is immediately obvious. Pairing your hashtags with clear and concise graphics also improves your chances of interaction.
Now thinking about it, we're shocked this tag has taken so long to appear in the list. The simplicity allows day-to-day posts to adopt it, regardless of topic or call to action. At the end of the day, every post made from your account will be relevant to #notforprofit. So use the tag until your heart's content!
Whether you're referencing yourself or your followers as "change makers", this is the ideal hashtag for you! Use it to promote the work you've done within your community, or the difference volunteers have made to your cause. Call it charity news.
Either way, seeing others' good deeds will further encourage people to offer their relief.
In modern society, nonprofit organisations often work towards helping the youth, the underprivileged youth, the underrepresented youth, the struggling youth. If that's what your charity focuses on, try this tag for size!
It may bring you new leads, where can you offer your help next?
The youth might flock to you with experiences to share, how can you use these to better your work?
Those who used to be the struggling youth will perhaps come forward and offer a helping hand, wanting to give back.
The opportunities are endless.
Who doesn't like being a good samaritan and helping the community from time to time? This hashtag calls for the locals to get involved and support a cause near and dear to them and their area. So if you're advocating for the children's park not to get replaced with a block of flats, you're in luck with this gem of #helpingthecommunity.
What would the community do without you?
Short and to the point, that's what we like about this hashtag. When it comes to promoting your charitable cause, you may find it helpful to call out to your audience without expecting too much from them. And this tag does exactly that!
You may be asking how this may be, well, the phrasing allows pressure to be taken off of potential donors and/or volunteers. You aren't asking them to single handedly solve the problem, rather merely to lend a hand here and there to help you get closer to solving it.
Try it out and let us know the impact it has on your charity.
Much like #changemakers, this charity hashtag can be used to promote yours and your volunteers/donors positive doings, which will encourage people to offer their own support and make their impact on the cause.
Hashtags don't have to be hard!
Of course, this hashtag is specific to charities helping animals. So if that's you, you've come to the right place!
There are dozens of hashtags relating to your niche floating around, but this is one we found most popular, thus most likely to reach audiences on social media.
Go ahead and post your animals in need with this tag and watch animal fanatics rush to their rescue.
Often people who do charity work and help those in need are called heroes. And if we're being honest, they're exactly that! It takes a special kind of person to go the whole way to aid others.
You can use this hashtag to find other charitable users of social media, to display your nonprofit in a positive light or to promote your nonprofit achievements. Whatever you decide upon, remind yourself you're a hero.
Here we have another hashtag specific to a nonprofit's niche, in this case relating to mental health. As mentioned in hashtag number 21, there are dozens of hashtags relating to your niche floating around! This is just the one we see posted about most frequently.
For more mental health hashtags, try looking at the posts under #mentalhealthmatters and see what others are using!
I hope this list of hashtags is useful for you and your charity. There are so many ways to support a cause, and all you really need is a commitment. For the most part, we can't change what's happening in the world, but we can improve our own little corner of it. So on behalf of all of us at Ugenie, thank you for taking that first step!
💡 Top Tip: use 2-3 relevant hashtags per post.
These popular hashtags will prove useful but if you still find yourself battling with the algorithms of social media and are looking for a new tool to make your life much easier, Ugenie is definitely your friend! Why not book a demo now, it'll make all the difference!