Build an Online Community: The Complete Guide to Online Community Building
11 min read
March 17, 2022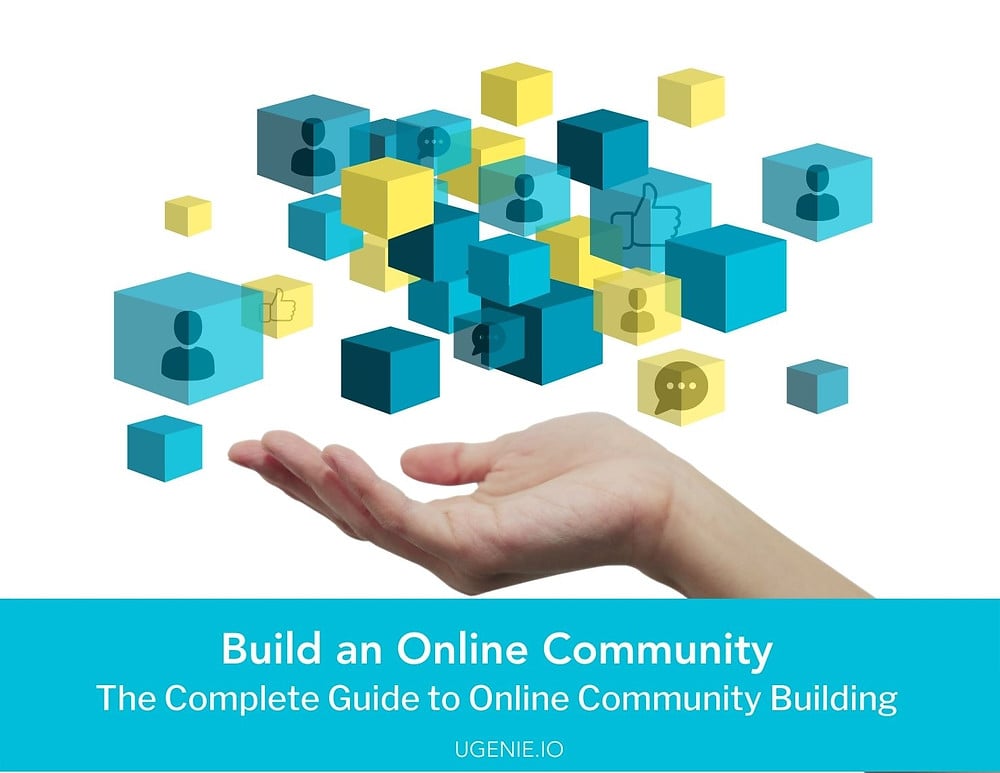 When it comes to engaging with your customers and target audience, there are few better ways than launching an online community. In recent years communities across niches have sprouted up, ranging from groups passionate about a certain breed of dog, to users of specific software. It turns out that we humans love the company of others who have similar passions, professions, and interests.
Are you involved with activities in your spare time? A group for your school, workplace, or neighbourhood? These are all examples of communities that provide members with joy and connection.
As a business owner or manager, communities can be a powerful way for you to engage with your target buyers. Instead of simply interacting with them through the traditional marketing and sales funnel, your team has the opportunity to build deep relationships. These branded communities are a powerful way to receive valuable customer feedback, build trust, distribute content, and so much more.
This complete guide to online community building is tailored toward small to medium-sized businesses that are considering launching their own community. It will include details such as how to determine your target audience, how to set guidelines for your community, and much more. By the end of the guide, you should have a thorough idea of what groundwork you'll need to lay to ensure your community is successful.
What is an Online Community?
Since the advent of the internet, people have been gathering into communities online. Some of the first websites were internet chat rooms designed for this purpose. An online community is a group of people who use a collaborative discussion platform to discuss specific topics of interest to the group. Online communities can take many forms, from more informal communities, like publicly available subreddits, to private social media groups, to privately hosted branded communities.
Define Your Community's Purpose and Goals
Understanding The Broader Goals of Your Community
Oftentimes, it is important to align your communities goals to your organisation's broader targets. Is this community to serve as a way for your brand to generate awareness for your target buyers? To improve customer satisfaction for existing users of your product? The more you're able to take the time to define these broader targets and your ambitions for the community among internal stakeholders, the more resources your organisation will be able to provide the community. Some examples include:
Marketing Goals (Awareness, Market Share, Leads)

Operational Goal (Crowdsourced Customer Support)

Customer Success (Churn Rates, Net Revenue Retention)

Product Management (Product Testing, Idea Generation, Customer Feedback)
Your Target Audience and Community Members
When it comes to launching and managing a successful community from scratch, a strong vision is essential. You'll want to clearly define your target community members. Who is this community for? What do they have in common? What value can you create by bringing them together? By taking the time to address these questions, you'll have the opportunity to build something valuable instead of only aiming to serve your brand. Ideally, you'll want to nail down a specific persona of who you're looking to serve.
As an example, if you're looking to build a community of CFOs for your financial planning software community, you can go as specific as: "We are looking to target Phil, he is a 45-year-old CFO at a 150-person logistics company, residing in London, UK."
By clearly defining who it is that you're trying to serve and what value they can potentially enjoy from joining a community, you set yourself up for success.
Your Community's Purpose
To build a successful community, one with a real sense of belonging, you need to clearly define why it exists. Going back to the previous example, one could say "We want to launch a community for mid-market CFOs that reside around the city of London to help them learn from one another and share best practices." This clear definition of your community's purpose will go a long way to determining your level of success.
Community Goals and Key Performance Indicators
Setting Specific Goals for Growth and Engagement
When it comes to measuring the success of your community, you'll typically want to have hard goals to aim for. At the launch of your community, these can be metrics such as the number of community members. As your community matures, these can shift towards factors, such as engagement member percentages, number of posts, activity contribution per member in the community. Some examples include:
Number of registered members

Number of new users in a certain window

Number of active users

Number of engagements and posts in the community

The average amount of time logged in the community per week
When it comes to setting your community goals, it is also important to clearly define internal stakeholders and assign community managers. Management will often have feedback on the target audience you're looking to serve.
Types of Online Communities Owned vs. Rented
As a business owner, you need to be aware of the two different types of communities that are commonly found online. Social media platforms, such as Facebook or LinkedIn, allow you to create private groups or pages. This is what we will refer to as "rented" communities. Platforms, such as Ugenie, allow you to "own" the community by not being reliant on the platform to contact your members directly, like Facebook.
Rented Communities - Social Media & Others
When it comes to rented communities, one major benefit to factor in is that you are starting with an existing audience that you can invite to join your community. Instead of having to rely on inviting community members directly through promotion, you can simply click the invite button on your friend's list often enough. This allows you to get started with relative ease.
However, this low barrier to entry is a double-edged sword. Through social media channels, such as Facebook and LinkedIn, you're also competing for your member's attention. When they sign on to the platform they are greeted by a cacophony of posts. From friends, other businesses, other communities, and even competitors. This lack of control on social networks can be a major hindrance if you're serious about seeing your community grow.
To escape this issue, businesses often turn to fully-owned, branded communities hosted on private platforms.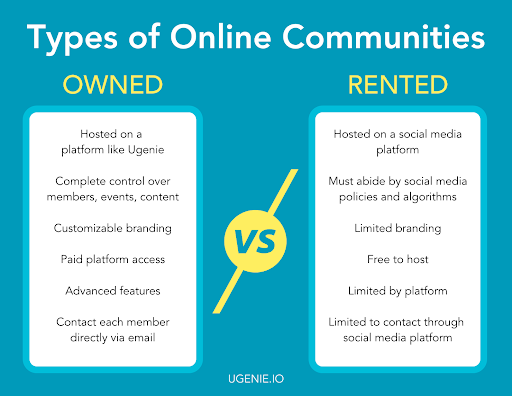 Owned Communities - Branded Communities
By choosing to use a platform, such as Ugenie to host your community, you're able to escape the tyranny of social media algorithms. Instead of being limited to users only on those social networks, you'll be able to invite anyone with an internet connection and email address. This gives you the added benefit of having full control over how your community members are contacted, what media you're able to distribute, and more. Beyond this, as the name suggests, you'll be able to provide a branded experience that is cohesive across the application––without referring your users to the social media giants.
Compared to rented communities, owned communities can be more difficult to start and get off the ground. While the process isn't cumbersome technically, oftentimes it involves inviting members through your existing email subscriber list or other methods. As a result, promotion is often an important consideration. This topic will be explored in further detail in our promotion chapter.
Choose a Platform that Meets Your Needs
Once you have decided on the type of community you wish to launch, you'll also want to decide on an exact platform. Here are some of the top factors that you should consider:
While there are many platforms out there, once you have selected one, you can begin sculpting and preparing for the launch of your community further.
Plan How You'll Structure the Community
Assigning a Community Manager
Who will be responsible for keeping your community vibrant and active? Will you have an internal staff member serve as the community manager? Or look for an experienced community manager to join your team perhaps? By considering these questions, you can structure your community for success. While it's easy to start a community with unengaged members––it's much harder to create a spot that they can call home and fully engage. Your community manager will typically be responsible for the following:
Setting and revising the community strategy

Managing your community platform

Organising events and content

Onboarding new members

Sending regular updates to group members

Growing and promoting the community
If you need some more information on what the role will look like, check out more information on the topic here.
Creating the Channels and Topics
Beyond assigning a community manager, it's also important to create a map of topics that you will be discussing in your community. This will help guide the conversation and create a framework for discussion. Many of the topics that will be discussed will have been identified in the creation of your community strategy. Some examples of topic clusters include:
Events

Updates

New Member Introductions

Promotions

Content

Opportunities

Jobs
Community Guidelines - Setting Rules that Represent Your Brand
Due to the nature of communities, you will often have to moderate conversations that are either way-off topic or inappropriate for the community. Ideally, you will want to give this topic some deep consideration and aim to anticipate some of the potential issues that may arise. This can include limiting content that is:
Political or religious

Overly self-promotional

Unprofessional and offensive

Way off-topic (Consider a watercooler channel)
You'll want to set out and make these guidelines accessible, so that you create an inclusive community that all members enjoy. You may also need to warn members that repeatedly breaking the rules will result in removal if necessary.
Determine Launch Date Promotion and Onboarding Plan
Once you've created much of the framework for your community and built out a structure for success, you can develop a strategy for your community's launch. Ideally, you'll want to create a push for all of your employees and staff members to join the community and support it. Beyond this, you should also consider promoting the launch of your community through your brand's social media and email marketing channels.
Testing Your Community Internally
To ensure you have everything in place before your communities launch date, you'll be well served by testing your community functionality internally. Ensure that everything is set up to represent your branding, staff member information, and desired functionality. By going through all of these details with your team, you'll save yourself any letdowns when it comes to going live with external community members!
Building Demand with Landing Pages
As another option, as you build out your community, you can start to collect the emails of members that would be interested in joining. You can create a simple landing page or website to help build anticipation and promote before launch. This will allow you to go live with a good list of members right from the get-go and eliminate the issue of a cold start.
Inviting Content Creators and Influencers
Oftentimes, it can be helpful to have a community advocate to assist with promotion at the start. By carefully scanning for professionally engaged individuals on platforms, such as LinkedIn or Twitter, you can build some great relationships. Oftentimes, these members will be very helpful in spreading the word about the launch of your community. You can also explore the idea of a paid partnership with them if the fit is especially strong and promising.
Engage Your Community with Content & Events
Great Content - Keep the Conversation Going
When it comes to community, content can often be the lifeblood that keeps members engaged and coming back. Each time they log on to your community, they should be treated with something interesting and relevant. If you have the ability, you can produce much of this content yourself or work with an external content partner. However, you also have the opportunity to share other relevant pieces from external publications. Beyond this, you should also make your community members feel welcome to share some of their content, as long as it doesn't interfere with your brand. Some examples:
Industry News & Trends

Research Pieces

Webinars and Video Series

Blog Posts
Events
Live events keep members engaged and connected in a community. While it can be tricky to nail down a winning format when it comes to topics and schedule, even something as simple as a lunch and learn from a subject-matter expert can be fitting! The format and content for your events will highly depend on your strategy and target audience. However, don't hesitate to experiment and see what works best for your niche. Even submitting polls and seeing what kind of events members want to attend will go a long way in ensuring you have the right mix. Some event category examples include:
Networking events

Company hosted webinars

Industry panels and discussions

Interview series with experts

Brainstorming sessions

Product feedback sessions
Launching, Monitoring, and Improving
If you've made it this far, you must be pretty excited to launch your new community! Once the necessary groundwork has been set, you can go live. You'll most likely want to host a kick-off event to introduce the new community members to the structure, purpose, plans, and opportunities of the group. This initial event will be vital to ensuring that members are excited to be involved and that the first cohort is successful. As community growth is a long-term game, you'll want to keep things sustainable. Continue to promote your community to ensure it grows steadily.
Monitoring Your Community
As mentioned previously, you'll want to monitor the health of your community on an ongoing basis. By setting benchmarks for community growth and engagement, you can ensure that members are having an enjoyable experience. As the community grows, you'll regularly want to have brainstorming sessions to develop ideas for new initiatives, content, events, collaborations, and more.
Asking for Feedback
Feedback is one of the most important elements of successful community management. Your community manager should be tasked with regularly engaging directly with community members to collect feedback on content, events, structure, and new ideas. By taking an approach of continuous improvement, you'll be sure to create an engaging space that will attract new members through referrals and invitations.
When Will You Start Your Community?
Communities hold massive opportunities for business owners and leaders. By starting and building a community, you can create a valuable asset, differentiation tool, and meaningful relationships. If you're looking for any support when it comes to the technical side of running a community, be sure to check out the Ugenie platform which makes it easy to create your own branded community.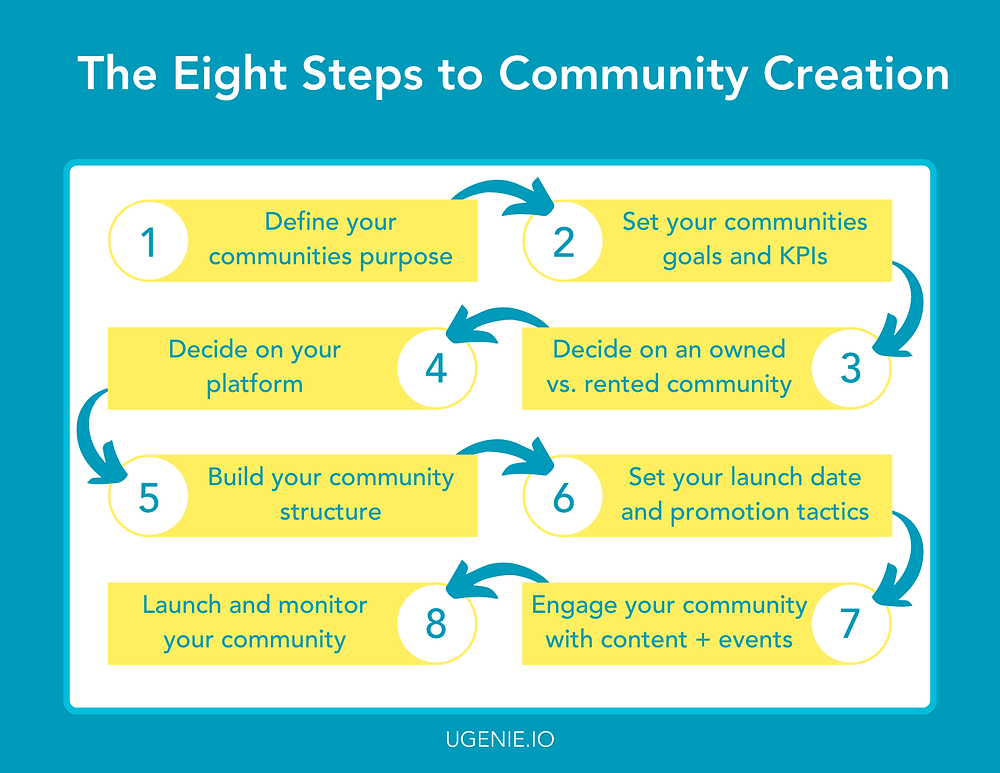 To recap, here are the main points of consideration to ensure you launch your community successfully:
Define your communities purpose: Why are you choosing to launch a community for your business?

Set your communities goals and key performance indicators: Set goals that align with your community's greater purpose and create a framework to measure success.

Decide on an owned vs. rented community: Will you use a social media platform to host your community with limited control? Or will you use a platform that streamlines the process?

Decide on your platform: While there are many options out there, you'll want to carefully analyse your desired features and decide on a platform that supports them.

Build your community structure: From assigning an enthusiastic community manager to creating community guidelines, it's essential to complete all of the required groundwork.

Set your launch date and promotion tactics: You'll want to set a launch date and how you'll get prospective members involved in your community.

Engage your community with content and events: Give people a reason to stick around and engage with other members!

Launch and monitor your community: With the groundwork set, the real fun begins. Set your community live and start engaging with your members.
Running a community for your business can be one of the most gratifying ways of making a positive impact. Beyond the commercial benefits, you'll be building powerful relationships between your community members and helping them succeed in their professional lives.