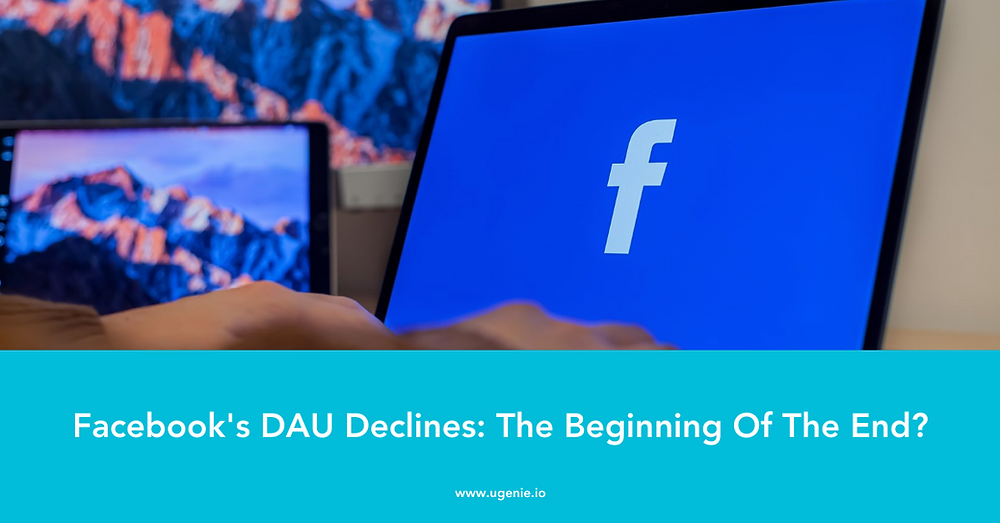 Is 2022 the year we witness the downfall of the Zuckerberg Metaverse?
If you've been anywhere near the internet over the past few days, you'll already have heard about the drop of Facebook's data. For the first time since founding 18-years ago, the site's daily active users (DAU) have fallen.
In the last quarter of 2021, DAU stood at 1.930 billion, now plummeting to 1.929 billion.
Facebook isn't the only wall to stop Zuckerberg in his tracks, Meta's Instagram and WhatsApp were essentially flat last quarter! Not to mention the Facebook stock has inevitably crashed, wiping out $200 million in market value.
I wouldn't want to head Meta's staff meeting this week - would you?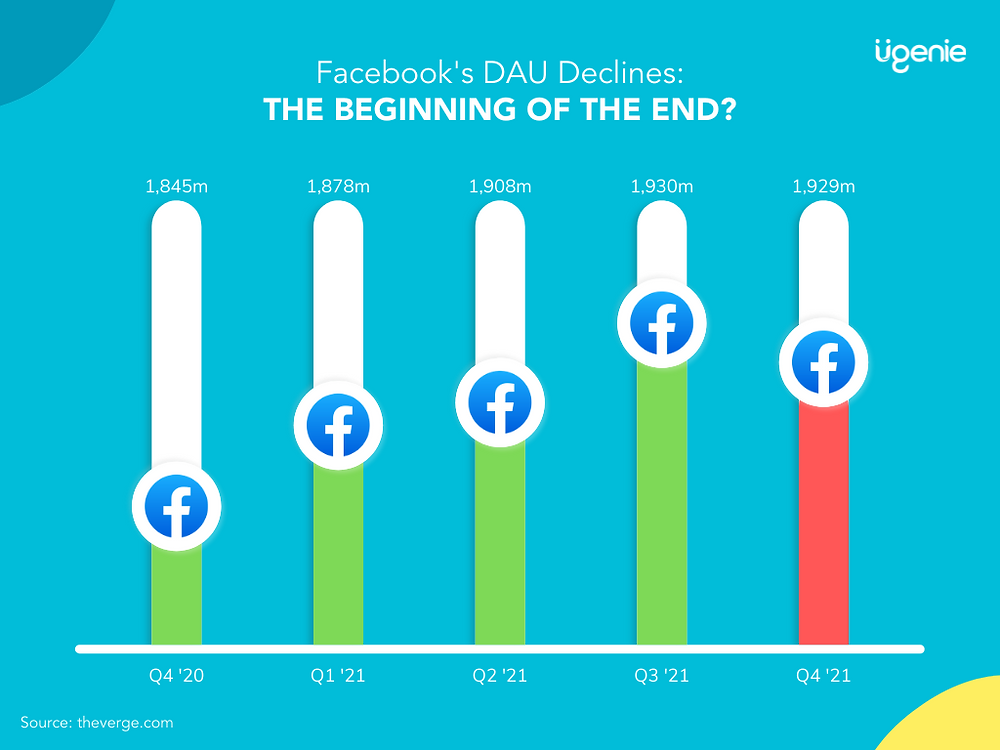 Why Has Facebook Drastically Fallen?
Facebook disregards today's generation, they're out of touch with what it means to be active on social media. It seems they're more focused on investing in the Metaverse! The prospect of a VR social platform is exciting, but we're at least a decade away from experiencing anything like it. Thus, users don't care about Facebook's greater picture.
As of October 2021, teenage users of the Facebook app in the US declined by 13 percent over the past 2 years. Some say Zuckerberg is selling a fantasy. We've got to question whether Meta's intentions are in the right place. Is the $10 billion really worth it if it affects its current status?
There's just something about the app that is neglecting to cater to current audiences.
The demographic that thrive on social media are taking their time elsewhere. Take TikTok for example, the app reached 1 billion users globally in September 2021, making it the fastest growing app worldwide. With TikTok demographic including 32.5% of users aged 10-19, it's clear to see the migration pattern.
It's no wonder teenagers are leaving Facebook behind when there's an alternative platform offering them creativity and control.
Facebook's Hiccups With The Law
Let's talk about Facebook's lawsuits and ethical violations. Since the very start of Facebook in 2004, Zuckerberg has faced backlash. The first instance with breaking the law was when he was accused of stealing Tyler and Cameron Winklevos' idea for the platform. Despite evidence proving Zuckerberg hacking into the two personal emails during the time frame in question, he managed to win the case.
Overtime Zuckerberg has given the general public more and more reasons to lose trust in both him and his platform. If it wasn't Facebook allegedly violating the federal wiretap law in August 2008, it was the continuous data leaks.
Data Leaks
The news prevails story after story of the general public's data being leaked via the popular Facebook app. We've compiled a few to say the least!
As of the 10th May 2011, it was found that third-parties had access to private information and data of Facebook users. This wasn't directly Zuckerberg's fault. Integrations of the app had been the centre of the leak, close to 100,000 applications had been leaking access to this information.

Shown in court documents, from 2012-2014 Facebook had been discussing monetising users' data, despite efforts to seal these files, they're available for public access.

The 7th March 2018 saw another data breach, revealing 50 million users' data, co-opted by Analytica for political uses pertaining to Trump's electoral campaign.

Then came the following February where personal information from third-party apps had been leaked to Facebook, including Flo Tracker (a menstrual cycle tracking app). The leak stood regardless of whether users were signed up to Facebook or not.
It's not only Facebook who've been subject to data breaches, their partnering platform WhatsApp has also appeared at the centre of accusations.
On the 13th of May 2019, hackers were able to install spyware on users' phones via the app, allowing them access to personal information. I
n June 2019, 25 million android phones were infected with hidden WhatsApp malware. This replaced the app with a fake one riddled with adverts.
From then on there have been more and more scandals involving Facebook, and it's partners. It's a possibility that users are losing trust in Meta.
Perhaps it's wise for Meta to focus less on the Zuckerberg Metaverse and more on building trust and loyalty with their own community.
Why are small businesses abandoning Facebook?
Small businesses are finding themselves at a loss with Facebook and its ever-changing algorithm. The only way for small pages to reach wider audiences is through paid promotions and in-app ads. Without ROI guarantee, is it really worth it?
Change is always round the corner. In December 2017, engagement bait posts were demoted, causing this type of content to perform horribly. Another change presented itself in May 2019, seeing the algorithm promoting posts from friends and family, which focused on whom individuals interacted with most. If you were trying to reach new followers, you were pretty much at a stalemate. Though Zuckerberg's vision was to make the platform more accessible for family and friends interacting with one another, several businesses suffer in its wake.
Since changing Facebook to be a place of friendships and togetherness, organic reach is suffering. From 5.5% at the end of 2019 and 7.7% the previous year. Although reach has increased in the past year (from 5.2% to 6.2%), statistics aren't on par for those working tirelessly to be seen.
Facebook is no longer a business friendly platform, with mass focus on the Zuckerberg Metaverse, it's difficult to follow their vision.
Community Migration
The past few years have been home to emerging membership platforms, making it easier than ever to escape the noise of social media platforms. At Ugenie, we offer an all-in-one membership platform for communities.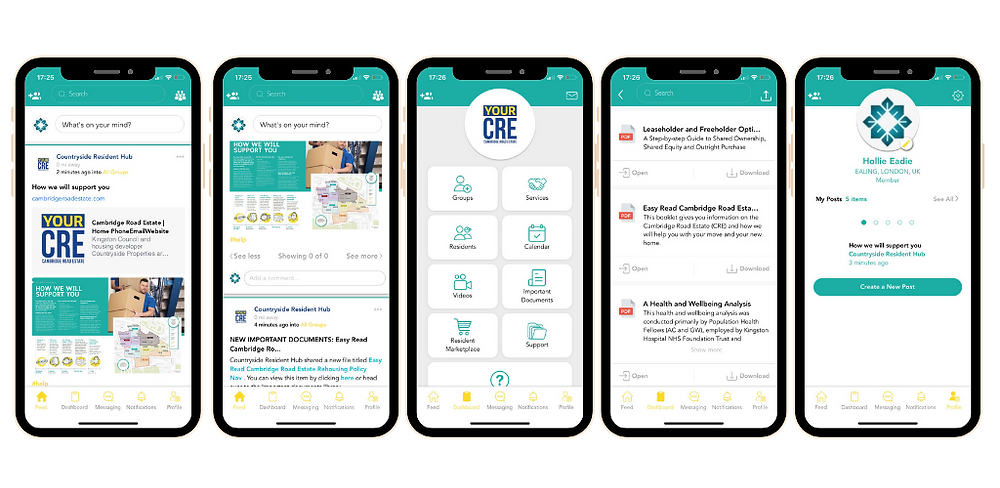 Image - Community Platform Example
You may be asking "what can membership platforms offer that Facebook can't?", allow us to tell you.
Unlike social media platforms, membership sites are private and completely controlled and moderated by you, which is vital for brands to avoid the hateful activity that often coincides with Facebook. It's been reported that 45% of those spoken to wished for less bullying/offensive commentary on social platforms. If they were offered an alternative place to communicate away from the hate, surely followers will turn into members.
Behold, further differences between membership platforms and Facebook:
Membership platforms allow you to monetise your content, gifting more control over ROI

You're able to spend more time creating content to solidify brand identity rather than fighting with the Facebook algorithm

The ability to use your membership as a direct marketing channel
Various membership providers also offer the option of white label app development, including us here at Ugenie! If you need further guidance on this feature, head over to our blog to find The Ultimate Guide to White Label Apps!
While you're here, why not book a demo and get a head start!