Building a membership and subscription site is a beautiful pursuit and opportunity!
It's becoming more accessible and easier to turn a passion, or a side business, into forms of recurring income.
'Membership & Subscription Community Platforms' are heralded online houses that empower community leaders.
Before our analysis, we will define 'Membership & Subscription Community Platforms' as portals to manage and monetise a membership and subscription business.
For a membership site, the essential features are emailing, event management, payments, content management, and member directories.
Also, monetisation is a huge goal for many community owners, alongside finding somewhere to 'set up shop' to host membership.
Due to the variety of community platform options to choose from, it can be hard to find the right one for you.
To help you, we've compiled a list of the seven best based on user reviews and features.
Disciple Media


Disciple Media are helping brands build independent and trusted communities. Disciple help businesses grow their revenue and engagement to gain total control of their communities without external restrictions.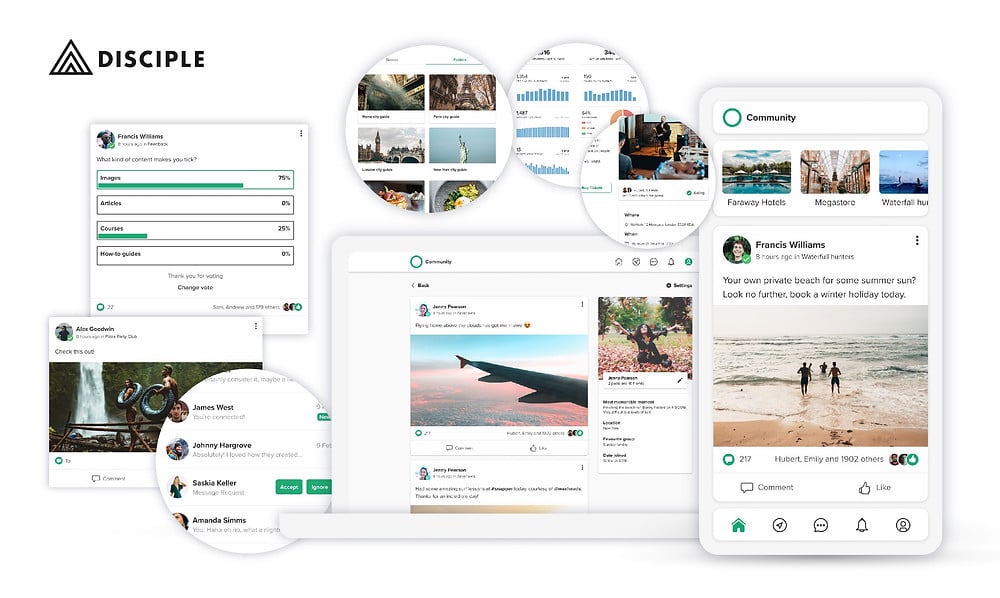 Uses
Freelancers

Large Enterprises

Non-Profits

Influencers

Public Administrators

Sole Traders
Advantages
Analytics Software
Disciple has, quite possibly, the best analytics software out of all community platforms in this article, though most do offer such a solution. 'Monthly Average Users (MAU)' and 'Weekly Active Members Over 12 Weeks' both signal the complexity of their filters.
Zapier Integration
Disciple uses a Zapier integration to build a bridge between their platform and other apps. However, there may be more technical knowledge required to power it.
Immersive Wall
When posting content, community leaders can 'full-screen' or 'maximise' content to emphasise announcements, which is perhaps Disciple's most unique feature.
Disadvantages
Too Many Integrations
Disciple has added a lot of integrations. However, more integrations may come at the expense of lower functionality and more outstanding technical issues.
Hierarchical Nature of 'Followers'
Disciple has included 'follower' statistics for member profiles. As a result, their online communities may be hierarchical.


Mighty Networks
Mighty Networks help businesses and brands build a membership site. They are regarded as a great alternative to Facebook Groups, enabling entrepreneurial individuals to "build a business powered by community".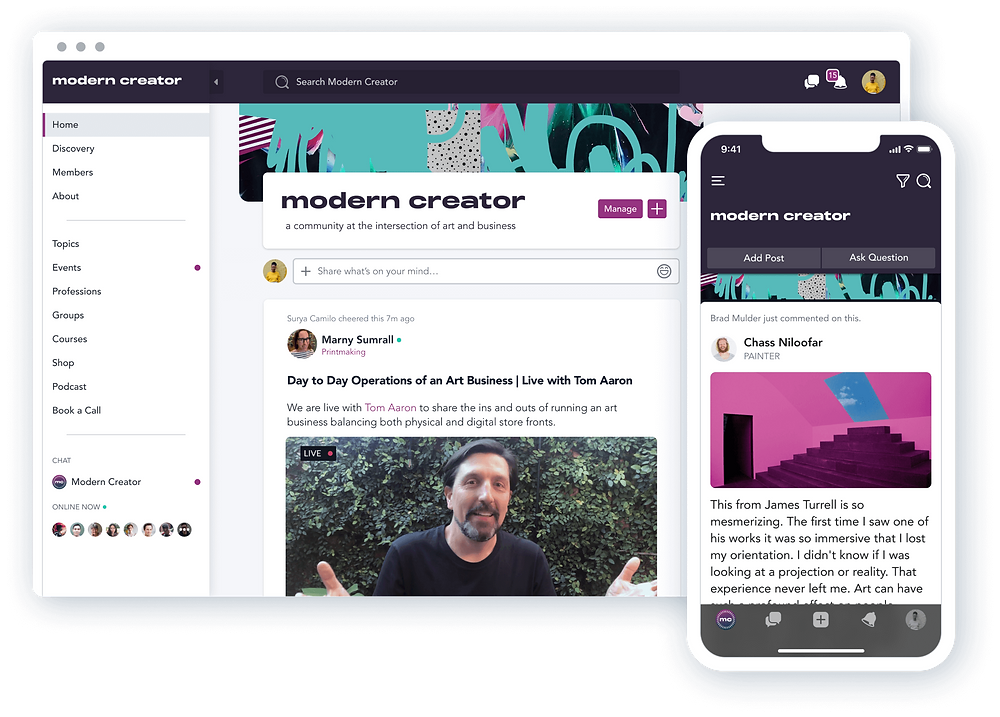 Uses
Creative Entrepreneurs

Creatives

Online Course Creators

Educators
Advantages
Affordability
Mighty Networks' Community Plan is priced at $23 per month, and the Business Plan is $81 per month. Community Control
Mighty Networks have developed a system to give community leaders greater privacy options and control over data, allowing them to 'own their community'. At Ugenie, protecting user data matters hugely to us, so we've done the same!
Tailored to Educators
Arguably the main selling point of Mighty Networks is the platform's ability to create, manage, and deliver eLearning in various formats. Through payment integration, a Mighty Network leader can sell courses online and charge membership fees.
Disadvantages
Limited Support Options
Due to a large number of networks, Mighty's support is slower than others. Offering tailored and consultancy-style support to each network leader would be costly for them.
Steep Learning Curve
Setting up a Mighty Network has been a complicated and time-consuming process for a few creators due to its steep learning curve.
Circle


Circle is another popular community platform for membership and subscription businesses, allowing leaders to "bring together discussions, memberships, and content". Circle uses include member interaction via direct messaging, building coaching communities, or simply gathering community members around a product.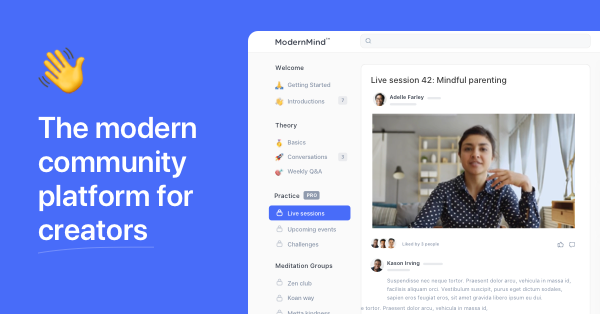 Uses
Membership Sites

Online Courses

Clubs & Associations

Customers

Coaching Communities

Coaching Delivery
Advantages
Affordability
Circle's Basic Plan is priced at $39 per month, and the Professional Plan is $79 per month.
Groups & 'Spaces'
Circle allow members and users to switch between 'spaces', or groups, based on different topics, empowering them to focus on what they are most interested in.
Website Integration
If a business already has a website, Circle can integrate key community elements onto it.
Disadvantages
Complex Customisation
For some, Circle's customisation options have been difficult to master.
No Android Application
Despite the plethora of people who use Android devices, Circle is yet to cater to Android users. Instead, they solely offer an iOS option.


Tribe
Tribe is a cloud-based and customisable community platform for businesses. They believe that every successful company must "engage and delight customers" by building relationships with the right tools.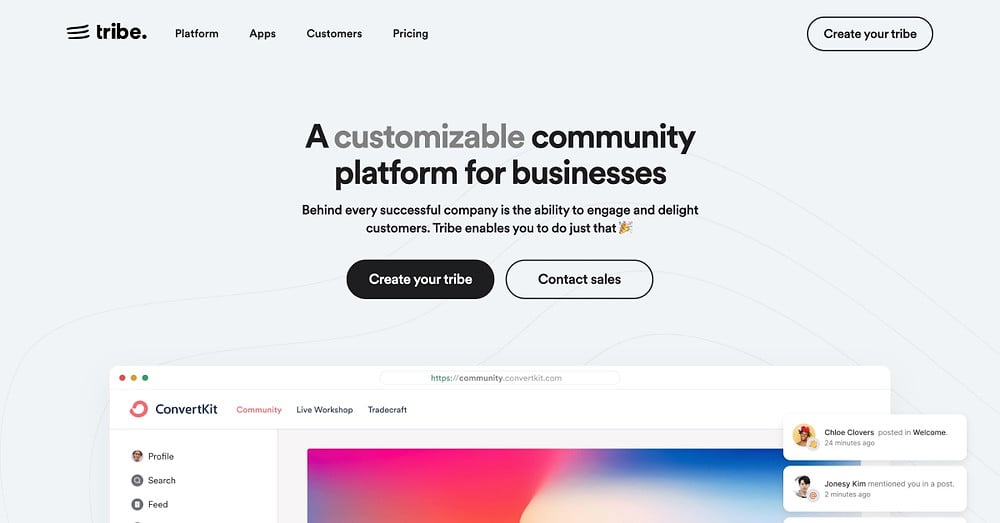 Uses
Large Companies

Customer Support

Self Service
Advantages
Free Plan
Tribe's Free Plan, which holds 100 members, unlimited spaces, and 5 seats, is a popular option amongst community leaders who wish to dabble.
Unlimited Members & Content
Tribe allows business owners and community leaders to add unlimited members and post unlimited pieces of content. For uHubs+, member capacity cannot exceed 500.
Community Management
Though many platforms have community management features, Tribe specialises in this, giving large companies the architecture for self-service, peer-to-peer support, and feedback collection through website integration.
Disadvantages
No Live Streaming As it stands, Tribe has not introduced live streaming.
Limited Customisation Options
Like Mighty Networks, Tribe's brand customisation and design are limited. Tribe only allow colours and graphics to be changed.
Hivebrite
Hivebrite is known to be a customisable community platform and an all-in-one solution to hosting a membership business. It is a centralised route to take.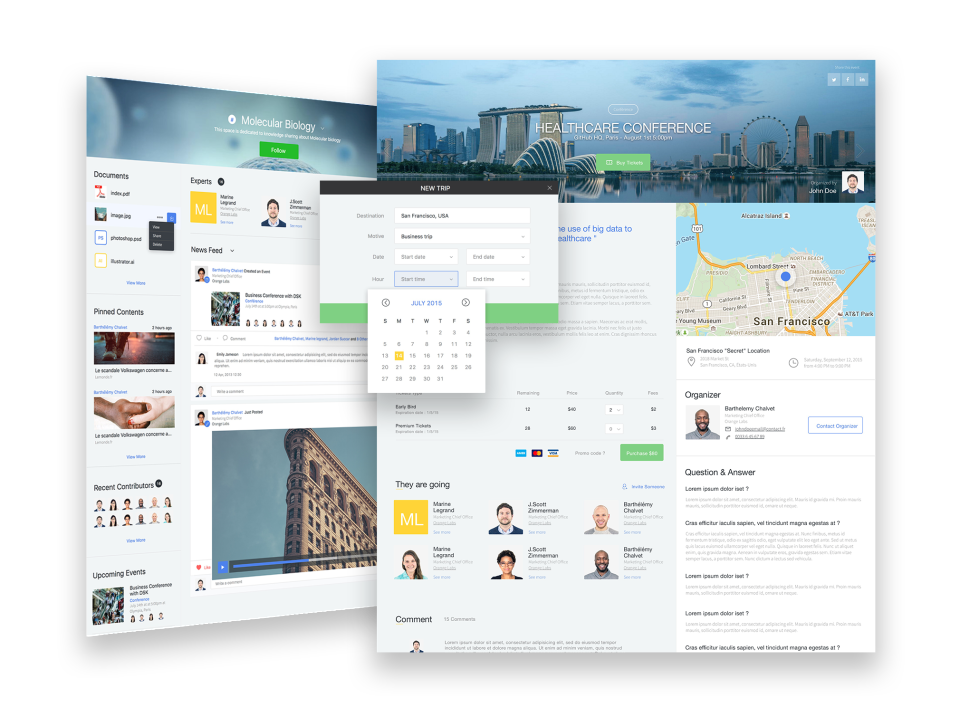 Uses
Educational Institutions

Professional Networks

Non-Profits

Corporate Alumni

Large Companies
Advantages
Customisable
Hivebrite is a fully customisable system, catering for brand consistency that truly reflects a business's values. Also, Hivebrite users are able to select which features suit them.
Advanced Analytics Hivebrite gives detailed reports and insightful analytics on community activity, traffic, and engagement, to help identify what areas need improvement.
Versatility
As the platform is 'all-in-one', it's versatile and adaptable to a variety of business needs, and could quite possibly replace elements of a standard website.
Disadvantages
Expensive
Hivebrite's 'all-in-one' functionality comes at a cost of $500 per month for the Basic Plan. That's just the floor price. For SMEs, such investment may be unnecessary.
Medium to Large Sized Enterprise
Due to Hivebrite's price tag, it tends to attract larger organisations that need all of its functionality.
GroupApp
Like the others above, GroupApp allows community leaders to create a community that they own, unify members with content, and monetise.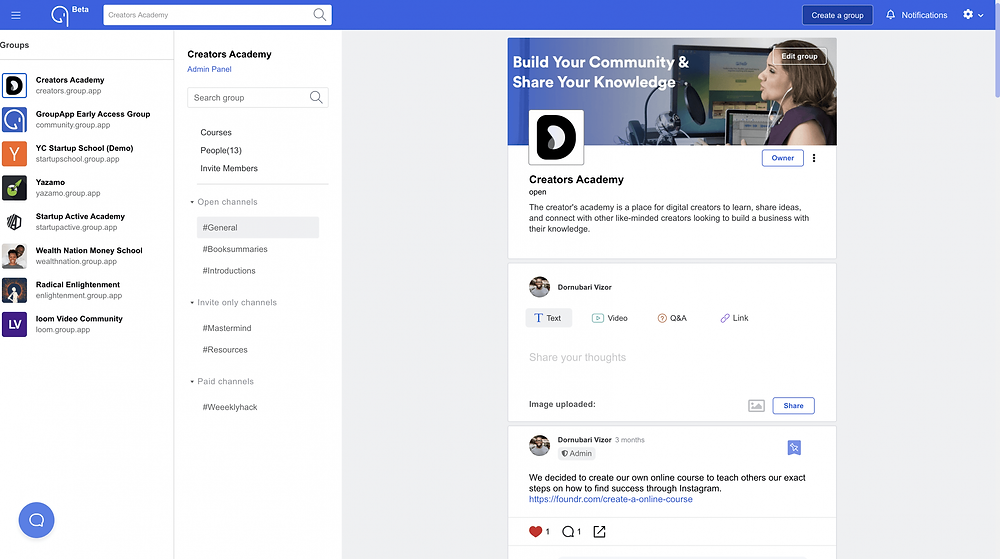 Uses
Online Course

Knowledge Creators

Membership Business & Community

Creator Community

Influencer Community
Advantages
Familiarity & Ease
GroupApp is designed to look and feel like a Facebook Group, so that community member migration is smooth and seamless. No prior learning is required.
Affordability GroupApp's Starter Plan is priced at $19 per month, and the Pro Plan is $49 per month.
Customisable
GroupApp's customisation is arguably more advanced than most on this list. Name, description, colours, logo, cover picture, and privacy settings, are the main interchangeable components.
Disadvantages
No White Label Solution
GroupApp does not develop a white label solution, available on iOS and Google Play stores, for larger membership and subscription organisations.
No Event Management GroupApp does not have an event management feature or a calendar function. Events are important for community engagement, so this is a limitation.
Ugenie
Ugenie is a dedicated platform for membership businesses to build, grow, and engage with their communities. Using a social media-inspired design, users feel an instant familiarity with the mobile and web platforms. It also has a pricing structure which is accessible to small businesses.
Uses
Membership & Subscription Businesses

Coaching Communities

Virtual Academies

Professional Associations

White Label Solution for Larger Businesses Who Need a Branded App
Advantages
Simple by Design
Ugenie has been designed for non-technical administrators. It is 'simple by design'. Through market research, the Ugenie founders felt other online community platforms were difficult to transition to, and overcomplicated to set up and run. Richard Davies, the founder of My Business LINCS Café, is also the networking group's hub manager on Ugenie and praises the app's simplicity and functionality.
Admin Dashboard, Onboarding Support and Consultancy Ugenie offers a stand-alone administration portal to invite members, add content and analyse activity. Thus, it offers extra support, guidance and resources to help start or transition a membership site. Each uHub, uHub+ and uApp community leader and their team receive onboarding training as well as access to the thriving Ugenie Community of insights and useable documents.
The Right Number of Integrations Adding way too many integrations to an online community platforms results in clunkiness and greater risks of technical issues. Ugenie focuses only on the most important integrations, such as Live Streaming, Payments and YouTube to maintain simplicity.
Content Management Ugenie's content management system comprises a document library, resource library and video folder, alongside content scheduling and management functions. John F. Kelly, the founder of The Connected Salesperson, uses uHubs+. He says he has "truly benefited from Ugenie's efficient content management system," crucial for his deliverance of sales-driven eLearning.
Unlimited Member Types and Groups Members can be segmented by member types and groups for content targeting.
Disadvantages
Limited Integrations
Ugenie has fewer integrations than some of the others on this list. They have adapted and developed their features based on the demands of their customers who tend to be non-technical administrators of smaller communities. Ugenie's approach may restrict larger businesses that seek to incorporate external apps beyond the basics.
Missing Features
Ugenie is currently missing some key features needed to efficiently run a membership business. However, payment integration, group chat and live streaming are all in development due to customer requests, and will be coming soon.
Final Verdict
Those are the seven! Ugenie, Disciple Media, Mighty Networks, Circle, Tribe, Hivebrite, and GroupApp. Each have features and functionalities that distinguish them from each other, cater to different audiences, and solve different community engagement problems.
Obviously, we regard Ugenie as being the membership and subscription community platform that you should choose.
If you are a community leader, or in the business of community, try a Ugenie hub, for free, for 45 days.