The 7 Best Membership & Subscription Community Platforms highlights the diverse range of community management solutions available on the market. With in-depth side-by-side comparisons between Ugenie and other popular choices, we aim to give you enough information to make a confident decision. In this article, we explore Mighty Networks in relation to Ugenie. Please note that our analysis was conducted at the time and date of this article.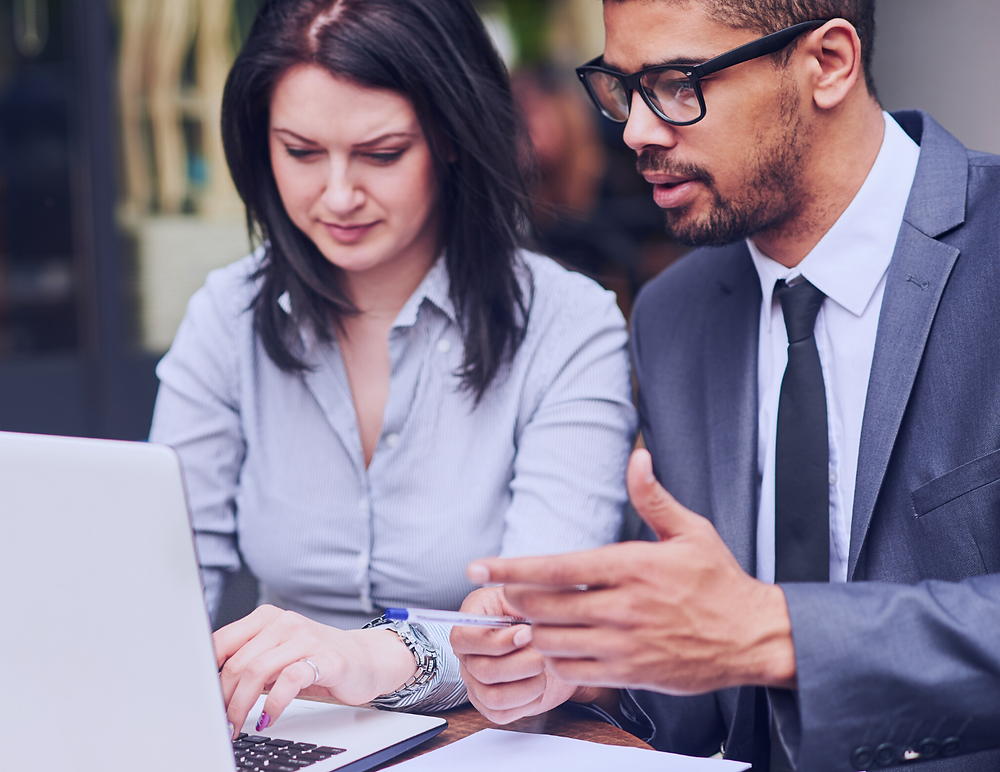 Analysis of Ugenie
Ugenie is a dedicated platform for membership businesses to build, grow, and engage with their communities. Using a social media-inspired design, users feel an instant familiarity with the mobile and web platforms. It also has a pricing structure that is accessible to small businesses. Below, we delve into Ugenie's key advantages and disadvantages.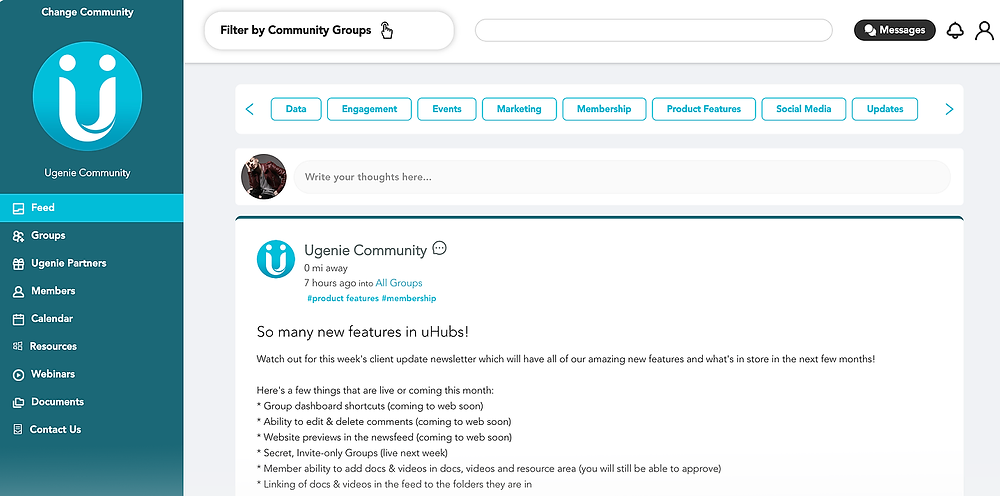 Advantages
Simple by Design
Ugenie has been designed for non-technical administrators. It is 'simple by design'. Through market research, the Ugenie founders felt other online community platforms were difficult to transition to and overcomplicated to set up and run. Both Richard Davies of My Business LINCS Café and Simon Hartley of CEO Central praise Ugenie for its simplicity, ease-of-use and functionality.
Admin Dashboard, Onboarding Support and Consultancy Ugenie offers a stand-alone administration portal to invite members, add content and analyse activity. Thus, it offers extra support to help start or transition a membership site. Each uHub, uHub+ and uApp community team receive onboarding training as well as access to the thriving Ugenie Community of insights and useable documents. The Right Number of Integrations Adding way too many integrations to an online community platform results in clunkiness and greater risks of technical issues. Ugenie focuses only on the most important integrations, such as Live Streaming, Payments and YouTube to maintain simplicity.
Content Management Ugenie's content management system comprises a document library, resource library and video folder, alongside content scheduling and management functions. Marion Thomas, the founder of ExtraordinaryPM, uses uHubs+. Her plan allows her to upload and group course resources, materials and articles into folders for her Bitesized and Mastery programme students to view and use.
Unlimited Member Types and Groups Members can be segmented by Member Types and Groups for content targeting. This offers detailed breakdowns of who your members are and what they desire.
Monetisation Options The Marketplace and Offers sections allow leaders to monetise their communities via product promotions, sponsorships, affiliate marketing, discounts and special deals. Further, Ugenie's payment integration is due for launch in 2021, meaning that the platform will develop into a centralised hub to collect standard membership fees.
Disadvantages
Limited Integrations
Ugenie has fewer integrations than other options on the market. Compared to Mighty Networks, they do not have a Zapier integration. They have adapted and developed their features based on the demands of their customers who tend to be non-technical administrators of smaller communities. Ugenie's approach may restrict larger businesses that seek to incorporate external apps beyond the basics.
Missing Features
Ugenie is currently missing some key features needed to efficiently run a membership business. However, payment integration, group chat and live streaming are all in development due to customer requests and will be coming soon.
No eLearning Delivery
Though Ugenie provides content management tools, there's currently no option to deliver courses or education through something similar to a Learning Management System (LMS). Mighty Networks, on the other hand, have prioritised course-specific features.
Requires Effort
Growing an online community on any platform involves a level of iterative learning and improvement. However, if a community leader is not driven to monetise, migrate from Facebook or immerse themselves in the Ugenie Community, they may struggle.
Analysis of Mighty Networks
Mighty Networks help businesses and brands build a membership site. They are regarded as a great alternative to Facebook Groups, enabling entrepreneurs to "build a business powered by community". Below we have listed the pros and cons of going Mighty.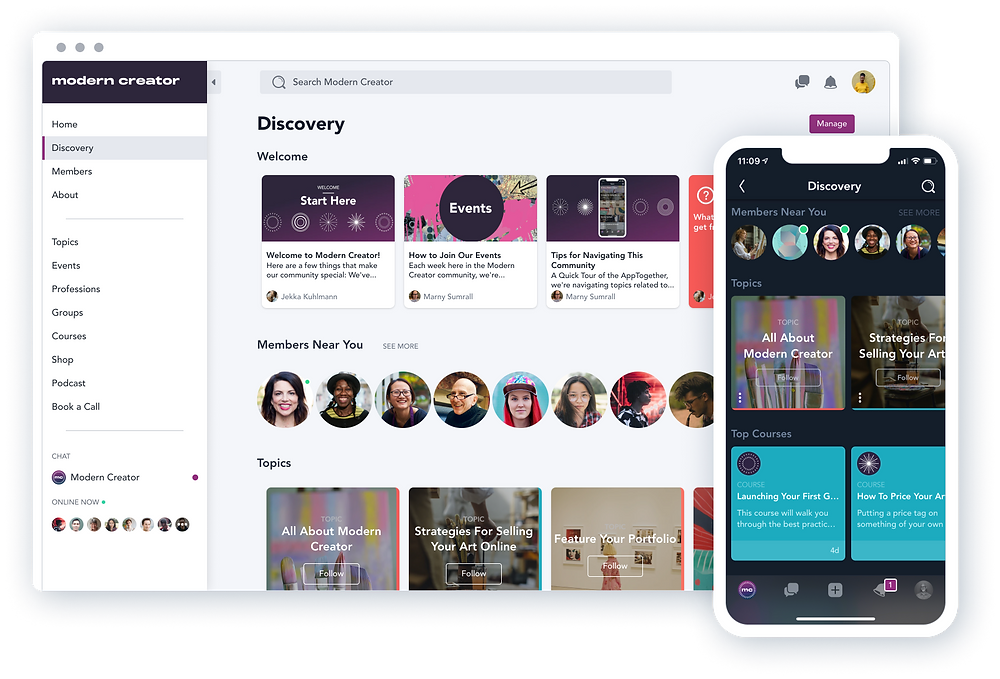 Advantages
Affordability
Mighty Networks' Community Plan is priced at $28 per month, which is cheaper than uHubs. The Business Plan is $81 per month upon annual payment. uHubs+ is more expensive. Community Control
Mighty Networks have developed a system to give community leaders greater privacy options and control over data, allowing them to 'own their community'. For example, a leader can create a private or secret network and remove or ban members who breach their guidelines. For similar reasons, Ugenie's hubs are designed to be GDPR compliant. They also aim to help leaders develop their community on their own terms.
Unlimited Administrators & Moderators
Mighty Networks do not limit the number of administrators or moderators within their online communities. Ugenie is similar in this regard. Unrestricted numbers of administrators or moderators allow leaders to fashion a clear organisational structure.
Unlimited Member Capacity
Under all three of their plans, Mighty Networks do not restrict the number of community members. Ugenie has a limit of 0 to 500 for uHubs and up to 500 for uHubs+. So, Mighty Networks may be more suitable for a community leader looking to scale.
Event Management
Community leaders can choose between hosting a local, live, live video or online meeting event on Zoom, Crowdcast or Facebook Live. Pages for events that are hosted externally can be created directly within the network and optimised for an efficient RSVP system.
Tailored to Educators
Arguably the main selling point of Mighty Networks is the platform's ability to create, manage, and deliver eLearning in various formats. Through payment integration, a Mighty Network leader can sell courses online and charge membership fees.
Disadvantages
Limited Support Options
Due to a large number of networks, Mighty's support is slower than others. Offering tailored and consultancy-style support to each network leader would be costly for them. Mighty Networks charge Community and Business Plan customers additional fees for their Community Design Masterclass. For completely free of charge, Ugenie provides rigorous onboarding and consultancy for new uHubs managers.
Too Many Integrations
Mighty Networks integrate Google Analytics, Zoom, YouTube, Crowdcast, Facebook Live, Zapier and Slack alongside options for email marketing and CRMs. As mentioned previously, too many integrations can lead to clunkiness and risks of technical issues. For simplicity and clarity, Ugenie instead focuses on adding a lower number of quality integrations.
Limited Analytics
For both the Business and Community Plan, Mighty Networks provide in-depth analytics on community growth and overall member behaviour. However, deeper and exportable insights on members, content, messages and revenue are only available under their Business Plan.
Steep Learning Curve
Setting up a Mighty Network has been a complicated and time-consuming process for a few creators due to its steep learning curve. Though the Mighty Community consists of various tutorials and demonstrations, it is fundamentally not 'simple by design' like Ugenie.
Comparing Ugenie to Mighty Networks
By downloading the Excel document below, you will receive a comprehensive comparison of Ugenie and Mighty Networks based on current information available in the market. The comparison dives into each platform's accessibility, availability, guidance, functionality, capability, content management, member management, community management, interactions, customisability, integrations, analytics system, monetisation options, marketing functions, security level and administrative functions.
Reasons to Choose Ugenie
1. By being 'simple by design', Ugenie is easier to use than Mighty Networks
2. Ugenie focuses on including the right number of integrations rather than too many
3. Ugenie's member limits signal accessibility for small to medium-sized enterprises (SMEs) 4. Ugenie's onboarding process is more cost-effective and robust 5. Ugenie's learning curve is shallower than that of Mighty Networks 6. Like Mighty Networks, Ugenie offers a range of customisation options 7. Like Mighty Networks, Ugenie gives community leaders control over their hub
8. Like Mighty Networks, Ugenie has no administrator or moderator limits
Final Verdict
And there you have it! There's a detailed and comparative analysis of Ugenie and Mighty Networks for you to weigh up two of your options.
Each has features and functionalities that distinguish them from each other, cater to different audiences, and solve different community engagement problems.
Obviously, we regard Ugenie as being the membership and subscription community platform that you should choose.
We have particularly placed emphasis on Ugenie's ease of use, affordability, integrations, accessibility for small to medium-sized businesses, onboarding process, shallow learning curve, customisation capabilities and unrestrained number of administrators.
If you are a community leader, or in the business of community, try a Ugenie hub, for free, for 45 days.